Back In The Water: Hydrophobia Prophecy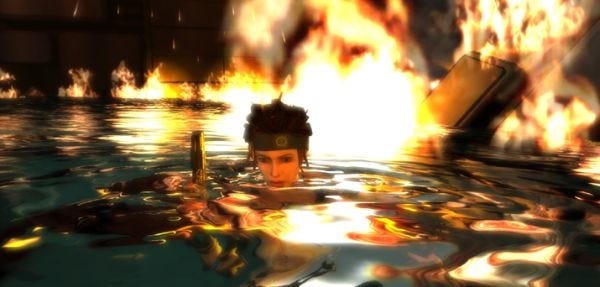 Hydrophobia - a game with perhaps a bigger reputation for the antics of its developers than its own watery ways - is making the leap from 360 exclusive to PC and PSN. And with the state of PSN, that's an exclusive for PC then. It's to be called Hydrophobia Prophecy.
The game received a very broad spread of reviews when it first game out. As high as 9/10 from the enthusiastic Official Xbox Magazine, and as low as 3/10 from the surly-faced EDGE. Negative reviews were apparently sometimes met with a peculiar barrage of insults and accusations from developers Dark Energy Digital, which has somewhat become the game's most famous aspect.
But that doesn't temper the enthusiasm with which this PC conversion is being promoted. To be released on Steam, they explain that it's a "comprehensive reinvention" of the game, rather than a port.
"[It] ncludes upgraded graphics, brand new gameplay mechanics, exclusive new levels, a reworked back story, a dramatic new ending, recast voice acting and much, much more. The long list of new features and enhancements is also augmented by changes Dark Energy have made in response to data gathered from the Hydrophobia Listening Post where players voted and commented on the features of Hydrophobia Pure."
That's an interesting list of fixes, bearing in mind they were the main themes mentioned in the reviews with which they were so angry. But good news, too.
The rather outspoken Pete Jones pushes it one stage further.
"We could've just ported Hydrophobia Pure over to Steam and PSN after the positive response it received, but we decided to go much further. The community really blew us away with the incredible response to Hydrophobia Pure and the outstanding level of feedback on the listening post, so we wanted to return the favour and ensure we created a bigger and better experience in every possible respect with Hydrophobia Prophecy for Steam and PSN."
Of course, Pure was the 360's remake that garnered improved scores, generally receiving 7s where once it was receiving 5s. So with another improvement on top of that one, in what their website is calling "the ultimate version of this phenominal action adventure", Hydrophobia Prophecy could be the version we've been waiting for. It's expected on Steam on the 9th May, and will likely cost around £8.