BARF: River City Ransom Sequel Incoming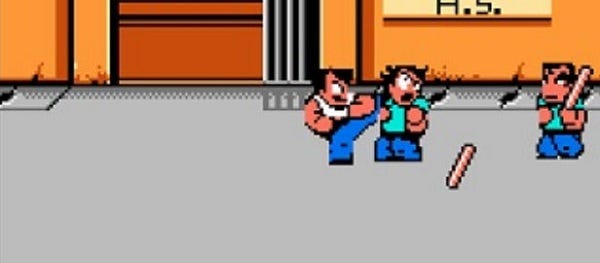 Yesterday, as I was picking through piles of retro Kickstarter projects, I commented that some series, such as Mega Man and Zelda, hadn't been part of my childhood and therefore didn't tug at the sepia strings of nostalgia. I do have a soft spot as wide as Totoro's belly for River City Ransom though. There simply aren't enough open world beat 'em ups with basic RPG features. There have been rumours of a sequel for some time but the latest confirmation, from Combit Studios, pitches the licensed successor as a PC game, launching in August 2014, with a crowdfunding campaign to begin this summer.
It probably shouldn't look too much different to the original.
I'm going to start shaking my head solemnly at the first sign of 3D. The website doesn't contain anything of the sort, but then it contains very little indeed.