River City Ransom: Underground resumes retro beatings
Biff bop wallop barf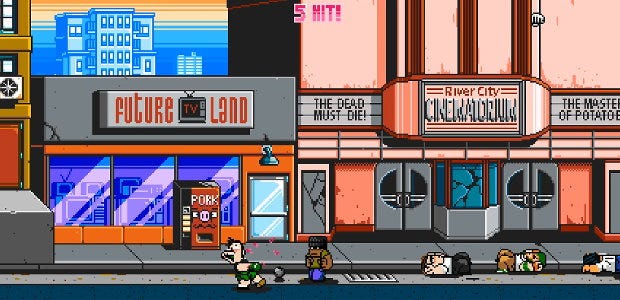 The old-school biff-bopping of a beloved NES beat 'em up has resumed with the release of River City Ransom: Underground [official site], an official licensed revival. It bleeps! It bloops! It barfs! It is, to refresh your memory, a scrolling beat 'em up with a touch of action-RPG as a group of plucky heroes kick the living heck out of badguys. I'm still delighted seeing how elaborate and acrobatic some of their moves are. Peep this:
Developers Conatus Creative partially funded Underground through a Kickstarter in 2013. Here's what they now say about the finished game:
"Many years after vanquishing Slick on the school rooftop, Alex and Ryan must take to the streets again. Help a new crop of fighters defeat the hordes of River City, and clear their name in a sinister kidnapping plot. You'll earn money, unlock moves, and upgrade your skills in a sprawling city on the brink of total chaos. This modern take on an old classic features over 500 unique street fighting moves, dozens of weapons, secrets galore, and a bonus arena fighting mode."
Oh, and it has cooperative and competitive multiplayer, in both local and online flavours.
River City Ransom: Underground is out on Steam for Windows, Mac, and Linux at £11.99/15,99€/$15.99, thanks to a 20% launch discount. Conatus plan to share information on how to mod the game once they're done with the fuss and bother of the launch.