Na Etc. Look, A Batman: Arkham Knight 'Gameplay' Trailer
"Gameplay" my aunt Fanny!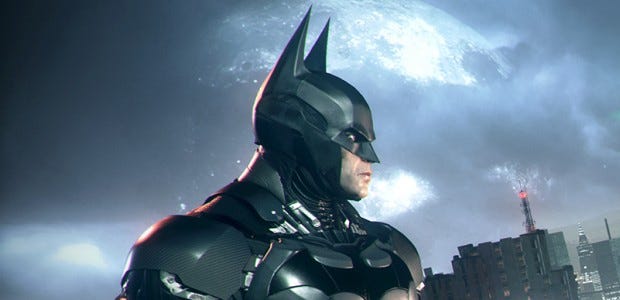 To go out with a bang, and perhaps to shake up the slightly stale series, Batman: Arkham Knight is introducing a drivable Batmobile of your very own to pootle around Gotham City. Nipping down to the shops to buy Shark Repellent Bat Spray, dropping Robin off at school, taking Catwoman out for a night on the tiles, oh what fun you'll have! The first "gameplay trailer" gives a peek at Brucie behind the wheel, though it's a gameplay trailer in the sense of "mostly cinematic snippets with a few seconds of gameplay spliced cut in."
Arkham Knight will see Scarecrow uniting a load of Bat-Villains in an attempt to murder Batman, a bit like a big comic book summer event. Harley Quinn, Two-Face, Penguin and all that motley lot will be cruising for a bruising and Brucie does have fine wheels for cruising. The new trailer shows the Batmobile even driving up and along the walls and ceiling of a tunnel, which I dearly hope is something Bat-players get to do at will rather than simply watch in cinematics. My limited understanding of cars is that they can do that if they go fast enough, and that it's wicked cool.
While the last game in the series, prequel Batman: Arkham Origins, was made by the Warner Bros. Montreal studio, this time creator Rocksteady Studios are back behind the Bat-Wheel. Supposedly it'll be the last Arkham game, though one would hardly be surprised if another Batman series with a new name follows it.
The game's due later this year, specifically on October 14 if the Steam listing is to be believed.