Why I Don't "Beat The Game"
SUBMIT TO MY SKILL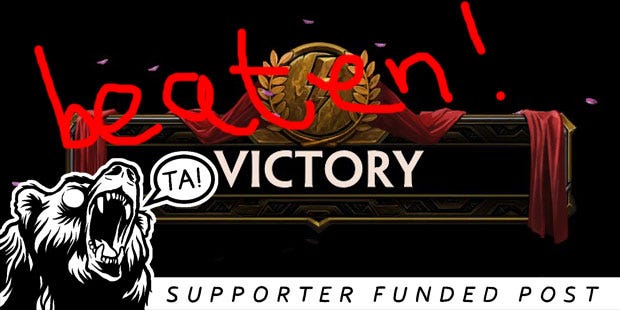 "I beat the game"*
I've been thinking about that phrase a lot over the last couple of days. I grew up in the UK - the southern bit of England. When my friends and I talked about games and winning or getting to the end we would generally say things like "I finished the game" or "I completed it". If you beat something related to a game it was generally an opponent or a tough boss - a specific foe rather than the wrapper within which you were playing.
Read the rest of this article with an RPS Premium subscription
To view this article you'll need to have a Premium subscription. Sign up today for access to more supporter-only articles, an ad-free reading experience, free gifts, and game discounts. Your support helps us create more great writing about PC games.
See more information