Dynasty Warriors Dev's Berserk Game Coming In Autumn
More hacking than slashing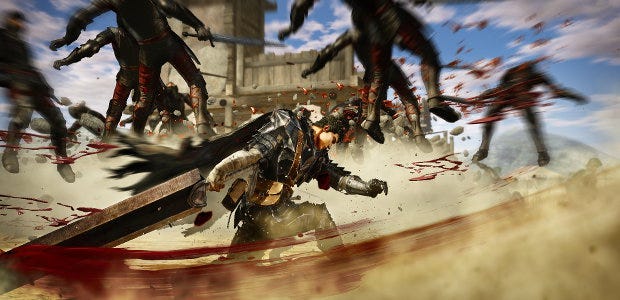 We've mentioned before that the epic fantasy manga Berserk was getting the Dynasty Warriors treatment but Koei Tecmo hadn't yet confirmed a release outside Japan. They have now. Berserk (working title) [official site] will be hacking 'n' slashing round our way this autumn, leaving a trail of gibs.
It looks like developers Omega Force will be doing their usual Dynasty Warriors stuff with Berserk, sending one mega-hero up against huge crowds of enemies who get swatted away and burst like well-fed mosquitos. It'll have several playable characters, of course, including Guts with his honking great Dragon Slayer sword and the agile Griffith. It'll be... a Dynasty Warriors game? Janky but a bit of a lark if you like that sort of thing?
Here's what Koei have to say:
"In this game, players can experience and immerse themselves into the world of Berserk as the main character Guts, wielding his powerful weapon Dragon Slayer mercilessly slashing enemies in half, and through the massive story beginning with the Golden Age arc. The game content will be enjoyable even to those who don't normally play games, so we hope all fans of Berserk will give this game a go. Become a member of Guts and his group, and experience the exhilaration of the most lethal Warriors game within the intense world of Berserk."
Berserk (whatever its name ends up being) will be out for Windows via Steam this autumn.