Free Loaders: Welcome To The Monster Museum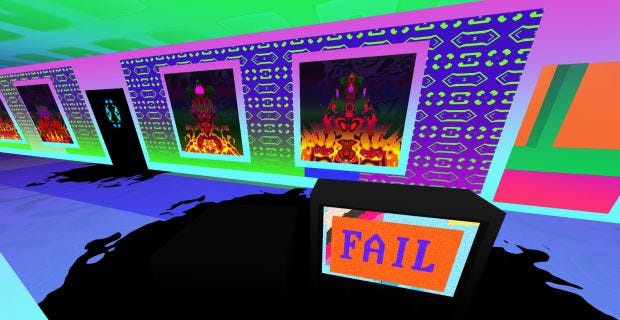 And here's the portrait of Damocles Murderfaüst III, painted by his blind serf. They say the demon Lord endowed his servant with bloodsight for the duration of the work, then rescinded the eyes as soon as the painting was complete. When the servant protested, Murderfaüst kicked him down a hill. But please let's continue, there's much more to see. Watch out for the leaking televisions.
Looking for more free games? Check out our round up of the best free PC games that you can download and play right now.
These Monsters by Strangethink
Infinite demon gallery. From the warped hard drive of Strangethink (responsible for Joy Exhibition and Secret Habitat) comes a jaunt through an endless museum full of beastial portraits. Dander through this procedurally generated nightmare, trying to ignore the eerie music while inspecting the faces of all These Monsters. Move from room to room through doors throbbing with otherwordly energy, doors which only seem to lead into thin air. Pay no heed to the broken TV sets, covered in black pulsating oil, as they offer up choppy information. "THEY CANNOT BE UNDERSTOOD," says this one. "THEY LIVE IN THE EARTH AND WATER," says another. "THEY. WILL. TAKE. BACK. WHAT. HAS. BEEN. STOLEN." Oh god, get out. Get out, GET OU--
ᗢ by sentvyr and takorii
Tropical cat explorer with unpronounceable name. Go searching for unknown islands and mysterious caves as an adventurous black cat with limited swimming abilities. Stay in the water too much and you'll go under, bringing yourself back to the last bit of land you set foot on. But make your way carefully from sandbank to sandbank, climbing trees to get a better view of the surroundings, and you'll be scouting out new and exciting places in no time. This is a small game with a big heart, and there's a surprisingly large amount to see. At one point you find a shipwreck, just a few islands away from a settlement of sun-kissed humans. You want to meow at them and show them your discovery. Alas, you are a cat. But please go on exploring, there's much more to find. A celebration of feline curiousity and human ignorance. Extra points for adorable idle animation.
Torpor by Josh O'Caoimh and Ludiorum
Short story of a soldier. Explore a home and lives of those left behind after a soldier's death. There are objects in the world that lead to new scenes and unravel a somewhat cryptic tale of family life and war. A funeral, a train station, a baby's room, a therapy clinic - it all comes together in some sense through the multiple viewpoints you inhabit, building a small-scale tale of loss.
PLLUG by carpetbones
Light-dwindling platformer. You have been separated from your loved ones and - wait, what now? Oh no! You have fallen down a hole. Flat on your face. You need to find your way out of this yellow labyrinth but the light exuding from your electric body is fading fast. Keep moving and draining electricity from lamp posts and plug sockets to keep your light alive and make it out. I like the little characters you meet along the way, like the wee bubble-blowing dragon dude who just wants his cigarettes back (at least, I think they're cigarettes). Or the hunched old man who tells you how to make it a little further with nothing but signs and pictures. More good stuff from the creator that brought you Shrub Bubs and GERM.
Little Bug by Bela Messex
Child-flinging, dual-stick platformer with lost girl and her firefly friend. You start in a forest, at the scene of a car crash. The girl is asking for her mum, who doesn't seem to be around. But soon a little firefly comes to your aid. Control one character with the left stick and the other with the right (don't use a keyboard) and use the bug's lasery grappling rope to pull up the kid and swing her across difficult gaps, or up steep cliffs, or away from the GIANT PURPLE HANDS OH MY GOD WHAT ARE THEY AND ALSO WHERE DID ALL THESE CREEPY CRYING EYES COME FROM? But don't let these things disturb you, the controls are what makes it. It reminds me a lot of Brothers: A Tale of Two Sons which used a similar double-stick schtick - but with a more grappling hook feel.
Glimby by thecatamites
It's Glimby!!! The lovable mascot from your childhood - from all our collective childhoods - the girl who can grow or shrink to any size. We all loved Glimby, deep in our child bosoms, but did we really know her? Know her, I mean, deep in her unfettered soul? She may live in a box, yes, furnished with balsa wood props and old photographs of family and friends from her days as a star. But her heart is free, unboxed, like a hare. See it run wild with dreams and plans and memories - unfinished novels, unappreciated operas, talking dolls, the lineage of a grandmother too brave and fierce for this world. Did you know her grandmother changed the family name to 'Glimby' when she emigrated? It's true. Her given name was "Joseph Conrad". But I'll bore you no more with the details. Everyone should peer into Glimby's life, such as it is. Everyone should remember that small/big girl that brought them minutes and minutes of boundless, childish joy.