BIFF: Batman Arkham City Collector's Edition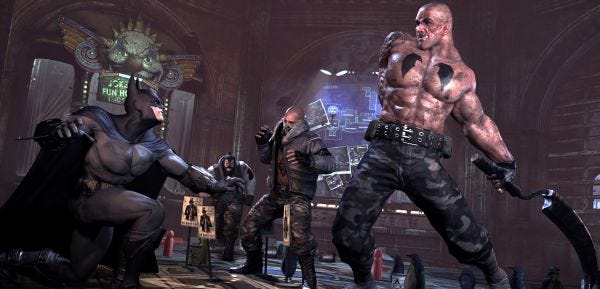 "How do you feel about special editions of games, John?" the entire internet asks me at once. Well, let me answer. They're alright, aren't they? While I take issue with any inclusion of exclusive DLC - because that's just so stupid it makes my ears bleed - any old guff they want to stick in an over-sized box is okay by me. And so it is that Batman: Arkham City has revealed what will be inside its bonus box. Although somewhat unofficially, as these details - as Joystiq reveal - have appeared on Gamestop and Best Buy's sites before any proper announcement or press release was put out. Which may also explain why no spec ed has been announced for the PC, which is obviously just an oversight by the online stores, and not Warner being stupid beyond belief.
So what do you get for the eye-blinkingly silly $99 the Americans will be asked to pay for the box? According to Best Buy, it seems to involve some sort of magic spells that will cause the game to leap from your monitor, Last Action Hero-style, into your room:
Collector's Edition includes a premium statue, an art book, Gotham Knight animated content, early access to digital add-on content and more
- Premium statue is produced by Kotobukiya to bring the excitement of the game into the real world
- Flip through the pages of a brilliantly illustrated art book to soak up all the Arkham City content available
- Get a jump on the competition when you receive exclusive access to add-on content before anyone else
- Gotham Knight animated content brings the story to life
I'm a touch disturbed by this notion that the "animated content" brings the story to life. I don't really want the Joker and his criminal buddies running around the Bath area. But I am absolutely taken by the incredibly sweet idea that a statue of something from the game will bring the excitement of the game into the real world.
I have this image of the marketing department sat with the statues on their desks, acting out the game with each other, shouting, "PUNCH! PUNCH! My Batman totally punched your Batman to DEATH." Then they all stop, look into each other's eyes, and sigh, "This is as exciting as playing the game!" It is a good image.
Quite what "exclusive access to add-on content before anyone else" means I'm not sure. Is it exclusive access, or early access? The latter I can live with. The former can bugger off. Presumably they mean "exclusive" in the same way that gaming magazines mean "exclusive" where it means... nothing whatsoever.
And maybe I've wasted your time and mine in telling you about this, because the bastards are only releasing the toys for the console crowds.