Big Pharma Rolls Off Production Line, Is Out Now
Where Theme Hospital gets its pills.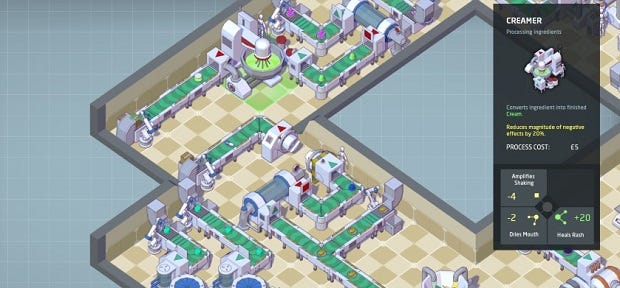 Big Pharma [official site] is "part business sim, part logistics puzzle", where you're dealing with balancing three competing resources: the limited space you have for the machinery that makes your drugs; the money you make from selling those drugs and spend to buy new machines; and your own conscience as you get reports back on the side effects of your pills. It's out today.
Do you have enough heart to sacrifice money and space to stop the terrible nightmares your hypertension pills are giving people? Think about it while watching the trailer below.
Watching that trailer should signal whether this is a game for you. I suspect it's a game for me; I have a soft spot for slow work of making machines efficient, as in other recent indie game Factorio. There is a wonderful satisfaction to making these industrial Rube Goldberg devices operate efficiently, and I suspect a bit of Theme Hospital-style gallows humour wouldn't hurt either.
Alec got his hands on Big Pharma earlier this year and spoke to developer Tim Wicksteed about the game's mixture of business management and logic puzzle.
Big Pharma is available for a launch price of £15.19/$20 on Steam and £12.89 on GOG.com.