Bithell Games will be making more Tron games, according to Disney
Following on from Tron: Identity's release later today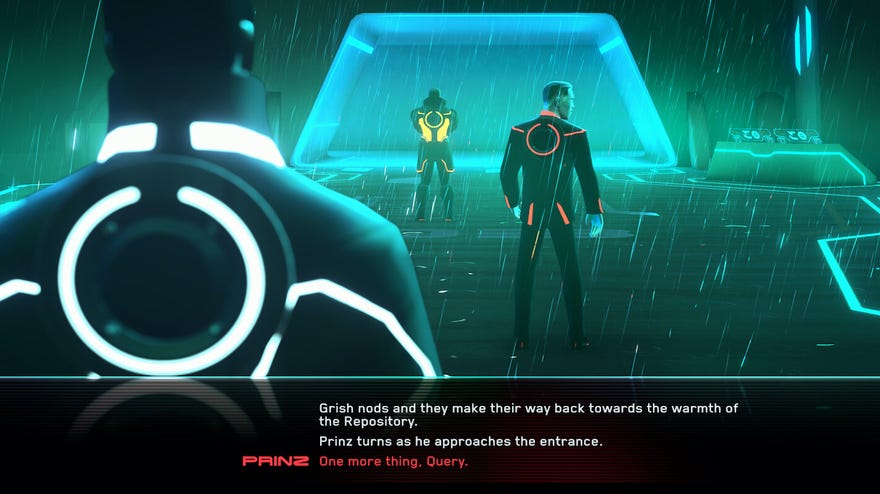 Bithell Games and Disney are releasing Tron: Identity later today, a visual novel spin on the neon-coloured virtual world. Set on a new Grid - the digitised worlds in Tron - you'll be investigating a mystery, making tough decisions, and solving puzzles, but today's release is only the beginning. According to Disney, Bithell Games will continue to develop future games in the Tron series.
In a D23 blog (spotted by VGC), Disney Games' producer Heidi Vargas said that "Tron: Identity is the start of Bithell Games' collaboration with Disney on Tron-dedicated games," and that more Tron games are coming in the future. Vargas also teased "a few other projects in the works I can't mention yet," but that could be related to a million other Disney-owned IPs at this point.
For the unaware, Bithell Games was founded by Mike Bithell, the guy that made the funny and funnily existential platformer Thomas Was Alone more than a decade ago. Since then, the studio has worked on games in various genres such as the tactical puzzling of John Wick Hex, and the card-game-thriller mash-up of The Solitaire Conspiracy.
Mike Bithell confirmed the news on Twitter, where he said "When you're enjoying the ride, you stay on the light cycle." If you've not been programmed into a Tron fan, the light cycles are those cool bikes you might have seen in Disneyworld or a few Kingdom Hearts games, which is where my exposure to the series began.
The original Tron follows a video game programmer (very coincidental) as he enters a computer, meets the physical manifestations of the programs, and fights the evil ones. I mainly remember the series more for its beautiful blue setting. It's partly an 80s take on the retro-future, partly neo-noir, partly Apple-designed cyberpunk, and now I'm just writing meaningless words. The Tron aesthetic is what it is - and I want more.
Tron: Identity releases later today on the Nintendo Switch and PC via Steam, kicking off a string of other Bithell-programmed Tron games.