Bloodbowl: Images and Moving Images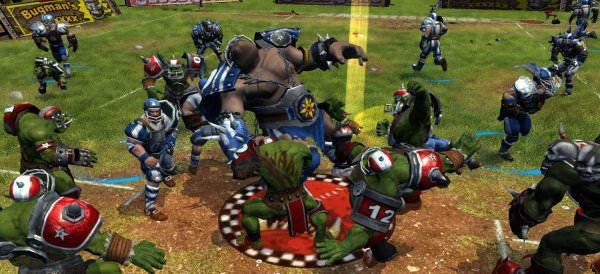 Following this afternoon's sports theme, we get something a little more meaty: a trailer and some screenshots for the upcoming Bloodbowl game. This if, of course, is the Games Workshop boardgame in which the denizens of fantasy RPG-world tear each other to shreds in fights over an inflated pigskin, while wearing clothes that look remarkably similar to the armour worn by American foot-to-ballists. In keeping with the boardgame, Bloodbowl is be turn-based. No crazy Speedball-style gaming here - we're talking tactics. After the click: a trailer and some enormous images.
There's what appears to be some in-game footage in the second half of this trailer, but neither that, nor the screens, are giving much away about how the game will play. Developers Cyanide make excellent cycling games (also sports!) so it's hard to tell how they will handle this task.
Fantasy sports game don't traditionally do all that well at review, and if they were ever going to leave us with a bloody taste in our mouths, then Bloodbowl would be the game to do it. I don't know that means, but it seemed appropriate. Onward!
Click for the full image:
Bloodbowl is due by Christmas 2008.