Come Play With Us In Clicker Heroes, Guild Wars 2, PlanetSide 2 And Lots More
Join the RPS community today!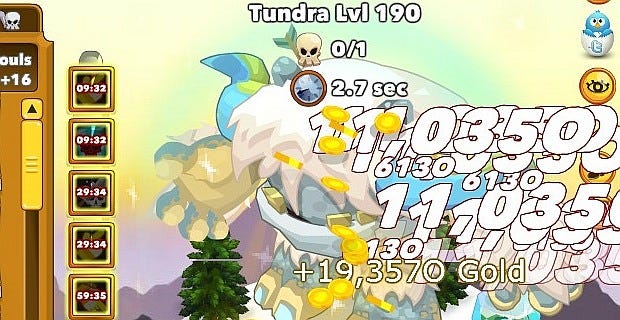 It's been a while! Over November and December, the RPS community have indulged in tonnes of different games. Read on to find out what we've been up to in Clicker Heroes [official site], Guild Wars 2 [official site], PlanetSide 2 [official site], Terraria [official site] and more.
Clicker Heroes
Yes, it's a bit weird that RPS has an outpost in this free-to-play click-em-up. Yet since the clan was established back in November, it's continued to power through raids and slowly garner more members. This has enabled us to gradually take on bigger challenges, and rake in hero souls. The more hero souls, the more we climb up neverending chain of bosses.
If that didn't make much sense to you, just know that Clicker Heroes is a very popular game, available in a very small download from Steam. Once you're playing, it's a simple case of clicking through the hordes of cutesy monsters (or hiring others to do it for you). Once you get stuck, you can start the game afresh but keep collected items.
This creates a cycle of spawning new universes to get stronger, with a chance of some strange encounters on the way.
If you want to contribute to our ongoing success, simply search for Rock, Paper, Click (remember the commas!) using the clan finder in-game. You can join and start fighting raids (or collecting souls from defeated ones) immediately. Clan leader MJH is keeping this forum thread updated with our progress.
Guild Wars 2
Since the Heart of Thorns expansion was released, RPS' GW2 guild has grown exponentially. But as with all our community ventures, there's little use in having a big, but inactive, organisation.
And like many of our community ventures, the guild is definitely not inactive. In the last six weeks alone, Rock, Paper, Signet has...
...hosted a contest to design screens for guild missions!
...started end-game raiding with up to two groups running three nights a week!
...conquered (and built up) an impressive hall!
...held fortnightly fundraisers to further furnish the hall!
...and arranged an open event designed to induct new players!
All alongside the scheduled sessions in PvP (with our own arena), guild missions and spontaneous WvW.
In short, if you're looking for a well-established guild with solid infrastructure, then you could do a lot worse than RPS. This even applies if you're brand new to the game too; there's always people to answer any questions.
You'll need to be on an EU server to join us, but then it's a simple case of putting your account name in this thread and you'll get an invite within 48 hours.
PlanetSide 2
Unlike GW2, PS2 hasn't had a big expansion recently, but it is home to one of RPS' core community bases. Soldiers in our biggest outfit (and members of the Vanu Sovereignty) got together at the start of December for their regular Wednesday expedition. The difference this time was in reaching out to some of their oldest members to bring together a remarkable evening.
An evening full of firm objectives, grand strategies, nuanced tactics, and periodic quotations from Sun Tzu and Bismarck.
(Or so I'm told!)
Regardless of whether it was a closely-coordinated campaign, or roughshod, rollicking rodeo, it looks like everyone had fun. Such nights also serve as a nice foundation for the forthcoming Call to Arms, which will likely follow in 2016.
If you'd like to join the outfit for their regular adventures, make sure you're on the Miller (EU) server, and head over to this thread to get invited.
RPS Calendar Guessing Game
At the very end of October, Aerothorn organised one of the forum's greatest competitions to date: A way for readers to try and predict the RPS Advent Calendar entries that have been posted all throughout December. We've had similar contests in past years, but Aero should be complimented on the amount of work spent preparing the thread. alms has also listed every game featured since 2007 to help educate newer users.
This year has seen the promise of a $20 gift voucher for whoever pins down the most entries and Bestest Best games. Although the window for making predictions has now closed, the thread has become 250 posts of discussion around the choices so far.
You can catch up on the thread here, and hopefully we'll see a repeat next year.
Terraria
Many of you know RPS had two Multiplay Terraria servers with just under a thousand players.
What you may not know is that one of the servers, 'Blue', was completely reset at the start of November. While the existing accounts remained, characters were purposely stripped of their gear to start again, thrown into a handcrafted new world.
To better support players, Zanchito and I have delegated day-to-day admin duties to a group of trusted regulars. They've done a great job of keeping Blue ship-shape so far, escalating issues quickly and ensuring users adhere to the rules.
The added help has also led to more frequent events: There's weekly boss kills, special one-offs, and changing of Halloween and Christmas modes.
If you're already a member of Blue, you can log-in immediately using your old details (even if you haven't played since August). If you'd like to join, please read the rules and post in this thread. Keep up with future events here - the first post is kept regularly updated.
Other Cool Things
Are you a member of our Steam group? Some time ago I posted that we'd work to use the group more effectively in the future, and on 30th November I made an announcement reiterating that commitment.
Since then, it's been a platform to plug upcoming community events once or twice a week - including many seen above, and the new Dirt Rally season.
As these updates for the main site are usually once a month, the Steam group gives us an opportunity to promote upcoming activities that anyone can participate in. I'm still trying to hit the sweet spot between making members aware and not spamming them with pop-ups - but don't worry; there won't be any more until 2016.
For our strategy fans, Heliocentric put together a campaign of XCOM: Long War - with saves being shared between players. Read how the first year is going (with reports!) here.
This round of our Blood Bowl 2's Divisons of Death is due to end shortly before Christmas too, with sign-ups for the third season to follow in January. Read about matches (with smacktalk) here.
And Finally
(From our Screenshots Thread)
Any Questions?
Anyone is free to ask questions (or plug other games) in the comments below.
If you have any broader feedback about how these updates have gone this year, please feel free to stick it in this thread.
Thanks very much for your support this year and see you in 2016!