Broom Raiders: Dustforce Update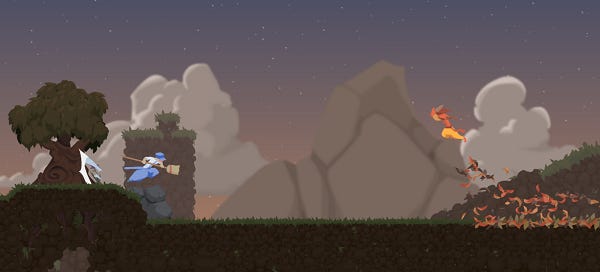 It's been over a year since we last heard anything about the fabulous broom-toting, wall-hugging platformer - Dustforce - but the developer, Hitbox team, have just put out a pair of screenshots, and the game's intro video, to remind us that they still exist. And what a pair of screenshots and intro video they are...
Here's the video. After they are finished making Dustforce: The Game, perhaps they could get started on Dustforce: The Saturday Morning cartoon.
And here's the two screenshots. Click on them to make them get bigger, you won't want to miss out on any of these beautiful pixels.
You can still grab the prototype version here, if you fancy giving it a try yourself, but since they've totally rebuilt the game from scratch since releasing the prototype, don't expect it to be indicative of final quality.
They're planning to get the final game out before the end of the year, so there's not too long left to wait now.