Bubsy 3D: Bubsy Visits the James Turrell Retrospective remastered
With a new epilogue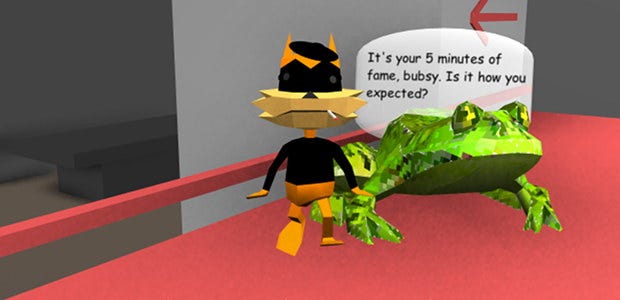 Against all odds, a new Bubsy game is coming this autumn. Some cynics might say that such a rubbo '90s platformer series apparently reaching 'retro icon' status is yet more evidence that video games mistake recognisability for merit, but me, I know this is proof that Arcane Kids saved Bubsy with their 2013 bootleg game Bubsy 3d: Bubsy Visits the James Turrell Retrospective [official site]. After the bobcat rode a coffin luge into the afterlife, how could he not life forever? Well! Aging plugins made the browser game a bother to play, but Arcane Kids have now released a standalone downloadable version with an added epilogue chapter. In it, Bubsy reflects on his career as an artist.
The original game was a remarkable thing, strange, playful, cheeky, hilarious, and a real pain in the bottom. I am very glad Arcane Kids have preserved it - and expanded it too. I'd tell you what happens in the epilogue but, given how many secrets the original hides, I may still be missing a lot of it. But I can say it starts with Bubsy (now in black jersey, shades, and beret, with a cigarette) attending his own retrospective and giving one last performance before visiting the Los Angeles County Museum of Art again.
I hope Arcane Kids will follow this up with a standalone version of Room of 1000 Snakes too. It's so wonderful but its browser version seems busted even in browsers which should still support it.
Bubsy 3D: Bubsy Visits the James Turrell Retrospective Remastered is free to download for Windows and Mac through its site (I won't link downloads directly in case they move). Oh, and be sure to hit the Bubsy3D Cheat Zone for the hottest Bubsy cheats.