Bugbear Cans Next Car Game Kickstarter, Releases Demo
No cash? No crash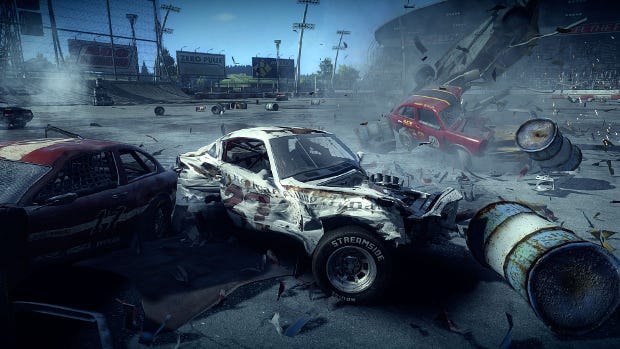 FlatOut creator Bugbear's next car game, Next Car Game, crashes and burns like nobody's business - in a good way. Unfortunately, its Kickstarter crashed and burned because nobody offered it their business - in a bad way - so Bugbear's elected to pull the plug. Fear not, however, for your fantasies of mangled metal and tires soaring like majestic rubber eagles haven't gone up in smoke just yet. Bugbear plans to continue the project via its Early Access program, and there's already a playable physics playground demo out right now.
Bugbear explained its premature Kickstarter shutdown in an update:
"Although our Kickstarter campaign has attracted tremendous enthusiasm, during the last couple of weeks it's become obvious that we are not going to meet our goal. Because of this we have decided concentrate on our efforts on the pre-order campaign."

"As a thank-you to our faithful fans, we have decided to release a PLAYABLE technology sneak peek, and it's available RIGHT NOW to all our pre-order supporters. The sneak peek features a playground that we use internally to test various features various like car damage and environment destruction. The best thing about it is that you will get a chance to have fun and wreak havoc with an amazing 24 cars!"
And if you haven't pre-ordered? Well then, your chances of being mauled by an actual bugbear (aka, hobgoblin, bogeyman, or bugaboo) are exponentially higher. But also, you can get your fill of Next Car Game with this sneak peek trailer, which really isn't very sneaky at all given that it's publicly available to millions of people on YouTube.
Is it bad that I kind of just want the final game to be a bigger, better version of that? A carnival of physics-based car calamities? A free space for my wildest machinations to run wild/drive like an idiot? I guess this is why I don't play many racing games.