Burly Men at Sea head for bookshelves
Burly Men in print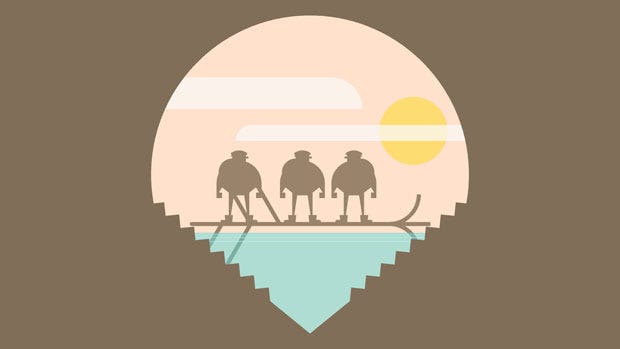 Burly Men At Sea's [official site] was one of my Games Of The Year for 2016. The developers, Brain&Brain bill it as a quiet adventure and I tend to describe it as an interactive storybook. You're in charge of the voyages of the Brothers Beard and your choices and interactions guide them through tiny adventures at sea. But now you can have one of those adventures made into a hardback book if you want something for your actual bookshelf.
The way it works is that each of your playthroughs will involve a specific set of events which the game records as books on a bookshelf. Each one has an associated numerical code and you can put your chosen code into the box at burlymenatsea.com/mystery to get that specific tale printed in book form and shipped to you.
I feel like this would be super useful if you had played with a child and they had a favourite adventure. Instead of needing to remember the sequence of events you could pull the book off the shelf and go through it with them. Alternatively, for people like me, I really enjoy seeing what people do when they convert a story from one medium to another.
As per the dev blog, the game-to-print conversion isn't a straight printing of screenshots so there's some consideration of the differences between print and digital:
"We're incredibly proud of how they came out: fifty pages printed and bound here in the U.S. with debossed fabric hardcover. The artwork itself is a stylized representation of the game, unique to the books. We wanted it to feel as if an artifact from the game world is sitting on your shelf, AND IT DOES."
In playing through to see which story I'd commit to paper I actually found two new endings which I'm truly pleased about! That's especially good news because when I got to the checkout page for my chosen adventure I realised that the book itself costs $30 (which is fine because I tend to only buy books I really want so I don't mind spending a bit more) but shipping costs almost that much again to the UK - $25. I have definitely spent more than that on art books (A Bright Future springs immediately to mind) but I think that in relation to Burly Men at Sea the book would be more of a souvenir than a standalone thing and that makes a difference to what I'm up for spending.
HOWEVER you can see the books at Now Play This which is a lovely games event at London's Somerset House from 7-9 April. A bunch of my friends are involved with that so DISCLOSURE but there are some ace games on the lineup and it was really interesting last time I went AND this time it includes a board game showcase and an alternative game controller showcase.