Modders finally shut up DJ Atomika in Burnout Paradise Remastered
The sound of silence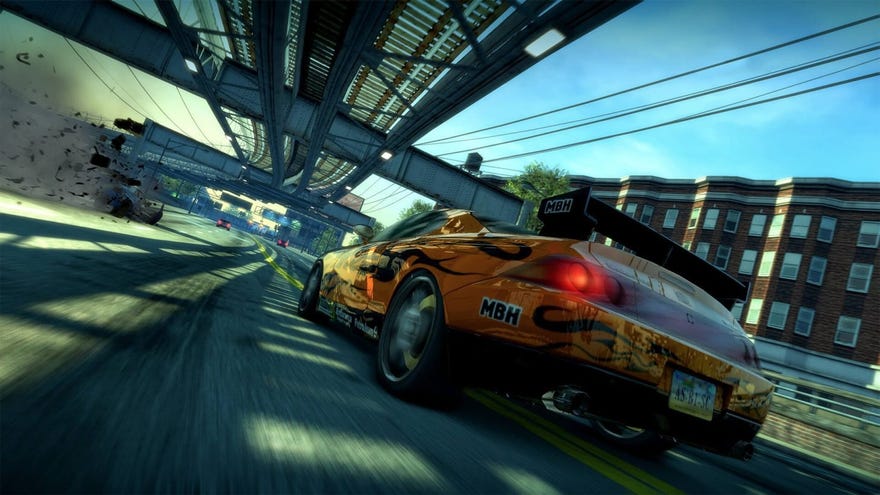 Burnout Paradise was a brilliant arcade racing game with a so-so soundtrack and one utterly accursed feature - DJ Atomika. John vociferously lamented the continued existence the DJ in his review of the recent remastered re-release. While the remaster didn't change too much (though it did include some formerly console-exclusive DLC), this revised version is now the only way to play, thanks to this beautiful little mod, posted on Reddit by user "burninrubber0", the DJ Atomika Disabler does just what it says on the tin, and it's even multiplayer compatible.
Sadly, Burnout Paradise will still open every time to Paradise City by Guns ' N Roses, even with the mod, but it's a tiny irritation compared to the spectre that formerly haunted the roads. All you've got to listen to now is the growl of your engine, the screeching sound of sheared steel and the remarkably pop-filled collection of music in the game. There are a few places where Atomika can't be fully removed, such as the intro and during some Freeburn online challenges, but almost all of his most annoyingly repetitive lines are gone.
Now that he's (mostly) silent, what surprises me is that DJ Atomika wasn't just a one-off blunder by EA, but was intended to be part of their brand identity. The man was driving people up the wall through most of EA's SSX series of snowboarding games. Perhaps his move to Paradise City was an act of exile? After all, none of the cars in the game appear to have drivers. Is this a no-mans-land, populated by rogue self-driving vehicles? Is DJ Atomika in a lonely recording booth somewhere, trying to convince these rampaging machines to self-destruct? If so, then he has failed. Good.
You can grab the Atomika-be-gone mod here on Reddit. Burnout Paradise Remastered is exclusive to Origin for £18/$20, and was also just added to the £4/$5 monthly Origin Access Basic subscription. There's a week-long free trial for that too.