Burnout Paradise Remastered launches on PC next week
Drive thru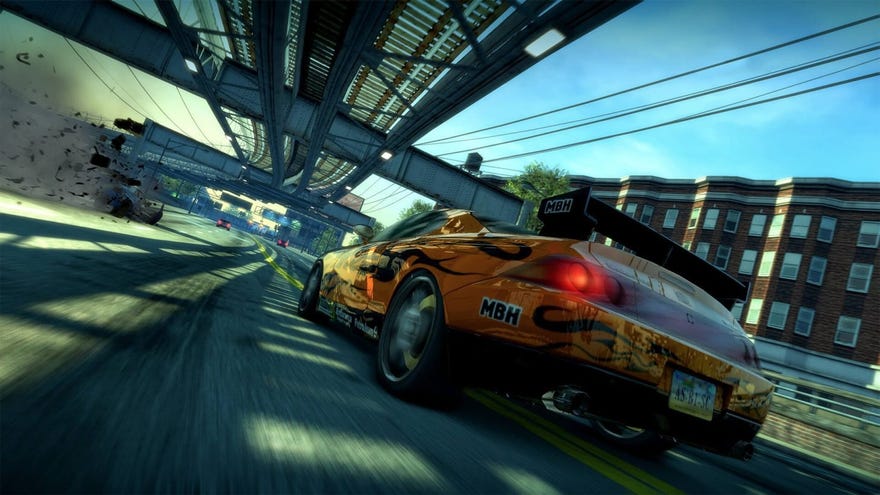 Open-world drive 'em up Burnout Paradise Remastered is drifting its way onto PC on August 21st – or it's already parked up and ready for Origin Access and Premier users. As well as being all prettied up for its re-release, it's launching with most of its bells and whistles, including bringing the Big Surf Island DLC to PC for the first time.
If you (like me) have somehow missed out on this particular slice of vehicular adventure, the verdict is that it's really rather good. Even if you're not much a fan of racing, Hannah Dwan describes how good it is to just cruise around and explore: "One of Burnout Paradise's greatest achievements is allowing you to do something else entirely. You can, and are encouraged to, just get behind the wheel and drive, without enemies, timers, or competition."
If you do want to speed around though, you certainly can, as the remaster's reveal trailer makes abundantly clear:
It's just as well there's no penalty for crashing.
As well as Big Surf Island, the PC version will launch with seven of the other DLCs. It'll all be in 4K, too, if that's your thing.
If you've got Origin Access Premier, you can pick up the full game now, or play a 10 hour trial with Basic. Otherwise it'll be £17.99 when it releases on Tuesday the 21st of August.