CoD: Infinite Warfare Story Trailer Shows Spacesplosions
Fun stuff!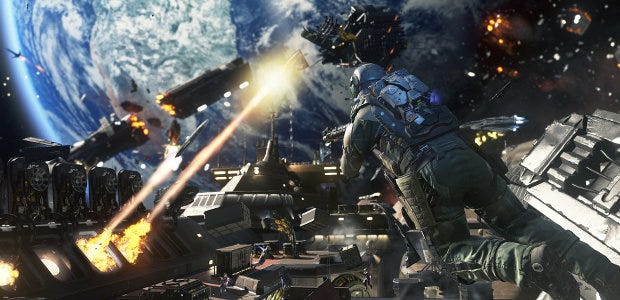 I would absolutely buy a cheap standalone version of the Call of Duty: Infinite Warfare [official site] story campaign. Its Michael Bay-esque tale of Martians, Moonmen, spaceships, loyalty, duty, robots, explosive decompression, and explosions looks a right lark in this here new trailer. Given that Activision half-heartedly tried selling Cod Blops 3's multiplayer separately, maybe one day they'll try it with the campaign? Or that doofy co-op? While I work on crossing my fingers and toes, you can watch the trailer with a villainous turn from that babyfaced fella from the TV show where everyone keeps telling him he knows nothing - The Weakest Link?
That looks great fun! Yet not fun enough for me to pay £40. I always end up waiting a few years until CoD games are cheap enough on sale for a few hours of bangsplosions. Though given all the huge set pieces, polish, assets, and voice acting and... maybe a standalone story might not be as cheap as I'd hope. Perhaps the campaign is subsidised by DLC sales of the multiplayer. I suppose the idea of splitting multiplayer was for it to be a foundation to sell all the DLC. Not that Activision are ever remotely open about the costs of all this.
My point is: I would like to burst those spacemen.
Infinite Warfare is due on November 4th.