Rollercoaster Tycoon 3 mysteriously delisted from Steam & GOG
Lawyers or licenses?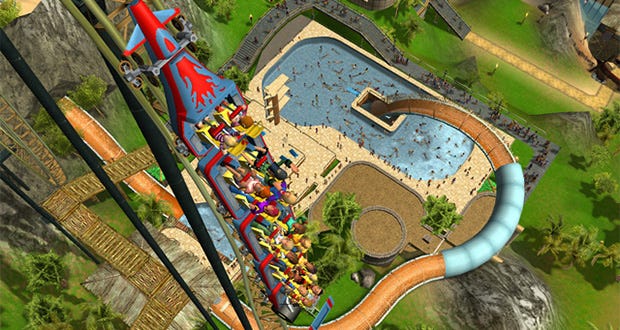 Back in January, zombie publisher Atari suffered the legal ire of its past-life contractor Frontier Developments over unpaid royalties for 2004's theme park sim RollerCoaster Tycoon 3.
There's been no word as yet of how that particular dust - alleged by gossip site TMZ to be worth some $2.2m - settled, but I suspect many of us would raise an eyebrow or six if someone told us that RT3's sudden removal from Steam and GOG yesterday was merely a coincidence. But, well, it might be.

TMZ's original report was big on melodrama ("You've taken us on a royalties roller coaster!!!") and low on detail or corroboration ("Frontier started to believe it was getting ripped off, claiming another website showed higher sales figures"), but Frontier later briefly confirmed to Eurogamer that they had undertaken legal action over Atari's alleged refusal to allow "our contractual right to audit."
Four months later, Game Informer is alleging that the sudden removal of RollerCoaster Tycoon 3 from Steam is a direct consequence of this argy-bargy. However, no sources beyond the earlier TMZ piece were given, and furthermore the GI story mistakenly claims that said piece was published last week, as opposed to four months previously. In other words, there is, as yet, no definitive proof available that RT3's delisting is a direct response to the royalties dispute.
RollerCoaster Tycoon 3: Platinum does still have a Steam page, but the buy button has disappeared without, at the time of writing, any official explanation. Over on GOG, however, the game has also disappeared, but GOG staff put their heads above the parapet to claim that "Due to expiring licensing rights, we were asked to remove the product from our catalog for the time being. We'll be in talks with new distribution rights holders to hopefully bring the game back as soon as possible."
This kind of thing does happen all the time. We've just seen GTA IV have to replace a huge amount of music due to expired licenses for songs on its original soundtrack, for instance. Waiting four months after the announcement of legal action before delisting doesn't quite smack of hot-blooded spite, but equally it could imply that some as-yet unannounced progress has been made in the court case.
If it is a licensing issue, it doesn't appear to involve the overall RollerCoaster Tycoon brand - Atari and series creator Chris Sawyer signed a three year license extension for that last summer. To that end, the original RollerCoaster Tycoon, RollerCoaster Tycoon 2 and 2017's remastered effort RollerCoaster Tycoon Classic are still available to buy.
It's the "new distribution rights holders" in the GOG statement that grabs me most here, seeming as it does to suggest someone other than Atari now calls the shots on that particular game.
In short: nobody outside of Atari or Frontier can say for sure what's gone on here, and right now there is no certain proof that the disappearance of RT3 is down to January's court case, as suspicious as it might seem. All we can say is that is, right now, if you're jonesing for mid-noughties theme park management, you might need to wait a while. Alternatively, there's Frontier's own 2016 spiritual sequel Planet Coaster, which itself almost certainly caused the brow of whatever creature currently wears the skin of Atari to furrow.