Cashtronauts Mixes Asteroids With Freelancer
Asterprivatlancer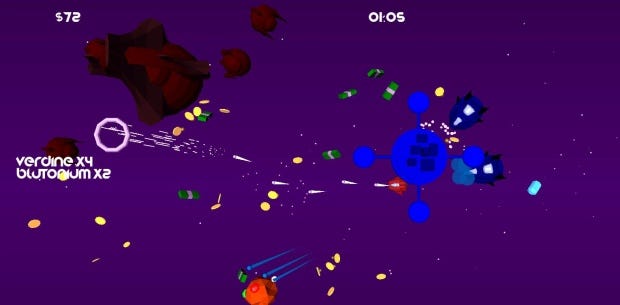 I know that headline sounds unlikely, but it really does. Or at least appears to, in its Kickstarter pitch. This is the work of Canadian indies Pixels And Poutine, looking for just $10,000 CAD, emphasising its arcadey ways and splitscreen multiplayer.
There are to be two modes of play, Venture and Skirmish, and within these you can choose your approach. Will you focus on mining, hunting for pirates, or pillaging and looting from other players? Or a combination? I imagine you're allowed a combination. This is all within the realm of a multidirectional arcade shooter. Take a look:
There's a demo of the Skirmish mode if you're interested to get your hands on it.
And here's some more footage:
And here's an inevitable Greenlight page.