Catacomb Kids Will Win You Over Within 55 Seconds
Smart as a rock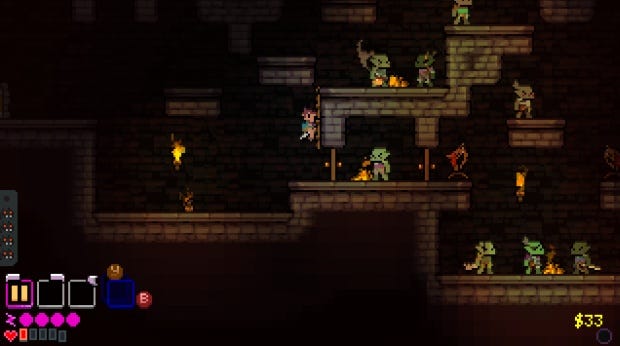 Here are my thoughts during the first 55 seconds of the Catacomb Kids video:
"Looks nice, but sure looks like yet another pixel roguelike."
"He's got a really decent jump. That's neat."
"Wait, distractions? There's more happening here."
"Oh. Oooohhhh. Oh, okay, yeah, I'm posting about this.
I think the best thing is to watch this video for yourself:
See? SEE?
It is, inevitably, being Kickstartered. But after that it would seem a manner of madness if it weren't immediately funded - I'm not sure how it's taking so long. Developer FourbitFriday is asking for $20,000, and is currently over $14k with a fortnight to go. I'd suggest he switch the current pitch video for the one above, though, and I think he'll see the cash come pouring in.
The game is, he estimates, 18% complete, so there's obviously a long way to go. But blimey-o-crikey, that 18% looks intriguing. He wants to put another 8 months into it, and that's what the $20k should cover, along with paying for music. $10 gets you the finished game on release, while $16 gets you access to the alphas and betas when they happen.
Of course there's a Greenlight,