Celestial Gardening: Kyoto Is A Very Pretty Thing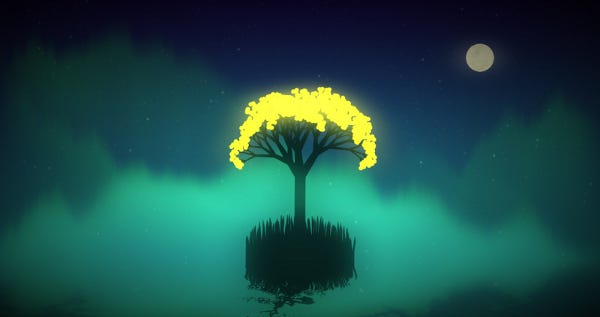 I've never been a fan of designating things "games" and "not games" - primarily because that paints the uniquely minimal Proteuses of the world as somehow inferior to the rootin'-tootin' shoot 'em ups, high-flying hop 'n' bops, and other more traditional genres that have so characterized this medium's past decade. Kyoto, in my mind, occupies a similar space.
Part tech demo, part experimental homage to the Japanese city of the same name, it's positively languid - but more like a peaceful, moonlit river and less like a half-salted snail. Basically, you interact with a neon-lit tree and the celestial landscape around it, poking and prodding to figure out how/if things function. Resulting sights range from barely noticeable to glorious rainbow eruptions worthy of the end segment from Peggle. However, a word of warning: Kyoto definitely requires patience. I really wasn't feeling it at first, but I'm also terrible at relaxing. So consume it slowly - like a warm glass of milk. Maybe even consume it with a warm glass of milk. But don't literally consume Kyoto. The game or the city, I mean. I should stop talking now.