Zoooooom: Chalo Chalo's Slow Racing Hits Early Access
Local multiplayer fun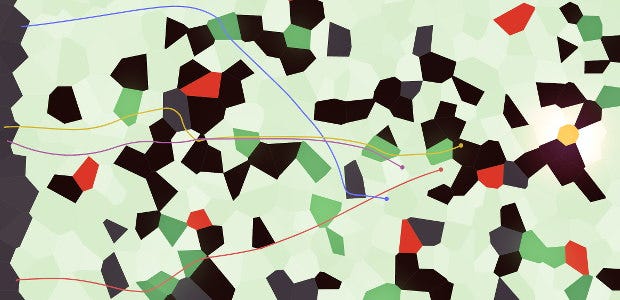 Low-speed chases are often gags (here's lookin' at you, No One Lives Forever 2) but can they be tense and thrilling? Chalo Chalo [official site] thinks so. It's a low-speed abstract local multiplayer racing game, with up to eight players winding through landscapes, dodging obstacles, zworping powerups, and bumping their buddies. It values planning over twitch reactions, see. Chalo Chalo still needs a little more time, but today launched onto Steam Early Access for folks who can't bear the tension.
Each race in Chalo Chalo is on a fresh new procedurally-generated landscape, a mish-mash of shapes and obstacles. Players pick their own course through it, watching for obstacles, hazards, and likely dangerous congestion points, while collecting powerups like teleporters and traps. It looks like a fun balance of planning, execution, and non-twitchy reaction. Have a gander in this trailer:
I like those colours and those noises too.
Chalo Chalo is for three to eight players. To avoid the mess and bother of connecting eight controllers, it does have an iOS and Android app letting people use their pocket telephones and slabputers as controllers. That's handy, that.
Made by by Richard Boeser of Ibb and Obb fame with Tomasz Kaye, Chalo Chalo is £6.99/9,99€/$9.99 onto Steam Early Access for Windows and Mac. The devs say they don't know how long it'll be until they declare Chalo Chalo properly done and launch it, but over the early access period they plan to polish it, bosh in more content, and optimise it.
I'll not often buy singleplayer story-driven games in early access but unfinished local multiplayer games with procedural levels are far less offputting.