Metroidvania roguelike Chasm finally launches July 31st
Breaking: Game rescued from cavern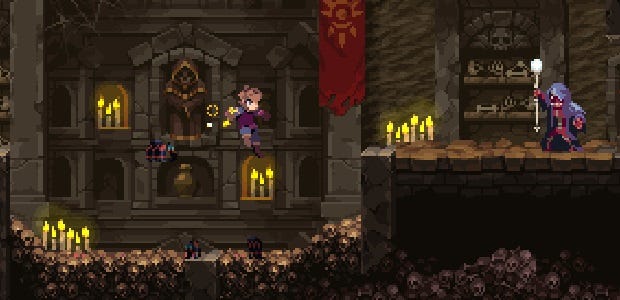 April 2013: Metroidvania roguelike Chasm lands on Kickstarter, with a demo.
February 2014: After going quiet for a time, Chasm resurfaces with a new trailer.
July 2018: Chasm finally sees the light of day, releasing July 31st (or 16th for backers).
They say good things come to those who wait, and Bit Kid's Chasm has always looked very good indeed. While a multitude of other games have grasped for that metroidvania roguelike crown in the interim (such as Dead Cells), Chasm staked its claim early. and thanks to its detailed and smoothly animated pixel-art, it doesn't look like it's aged a day, as you can see in the new trailer below.
While it's probably taken a little longer than anyone on the development team had hoped, Chasm is still an impressive looking game, and looks very polished. Understandable, given the length of time it's been in development. While RPS has admittedly only covered it during its early years of development, the Kickstarter updates page for the game details a long and storied history of development blogs, convention appearances and alpha and beta releases for backers to play around with. Congrats to developer Bit Kid for finally bringing this one to fruition.
While a hardcore, perma-death mode is available, Chasm is designed to be played more like a traditional Metroidvania, complete with cutscenes, dialgoue and story. Unless you really want it to be, death in Chasm is an annoyance rather than a reason to hurl your PC out the window. As with Spelunky and many others, the individual room designs in Chasm are hand-crafted, but the overall world layout is procedurally generated, with the game arranging these building blocks into six distinct areas, punctuated with major boss battles.
Chasm will be launching on July 31st, and you can find it on Steam here, and later on Humble.