Ding ding! Cities: Skylines Mass Transit DLC arrives
Request stop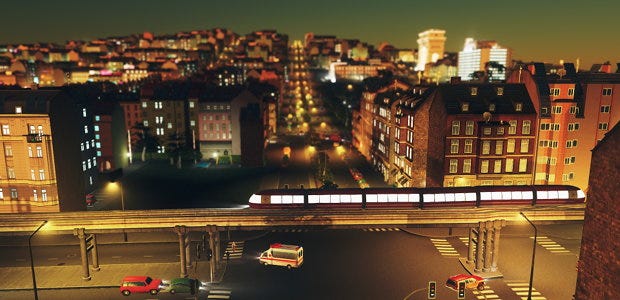 A new expansion for Cities: Skylines [official site], named Mass Transit, has arrived to expand the city-building manage 'em up's public transport. The expansion adds ferries, monorails, cable cars, and -- for those building modernist cities of tomorrow -- blimps, along with new transport-y challenges, new policies, new road types, and new canal bits. Aw, it's not for you. It's more of a Shelbyville expansion.
As I was saying, Mass Transit is out for £10.49/12,99€/$12.99 on Steam.
Alongside the expansion, Colossal Order have released a free update adding features for everyone. These include naming roads, more tools to help understand your public transport, and one-way train tracks. The update also rolls in several features found in mods, such as the abilities to make rails stations only for local trains, to set stop signs at intersections, and to toggle traffic lights at intersections. See version 1.7.0's patch notes for more details.
The base game is on sale right now too, with a 67% discount making it £7.36/8,96€/$9.60 on Steam until Monday.
It's handy, being the god-emperor of a city (or perhaps a sentient nanotech city?), able to conjure infrastructure from thin air. Edinburgh's newfangled trams ran years behind schedule and several hundred million pounds over budget, even after several planned lines were cut - not to mention the nuisance caused by closing some of the city's main roads during construction. Now plans to extend into Leith are being raised again and someone's hanging crocheted "LEITH SAYS NO TO TRAMS" banners on railings around the neighbourhood. Consider yourself lucky, virtual godcity.