Oi! Cities: Skylines launches DLC known as Parklife
It's got nothing to do with your 'Vorsprung durch Technik', you know?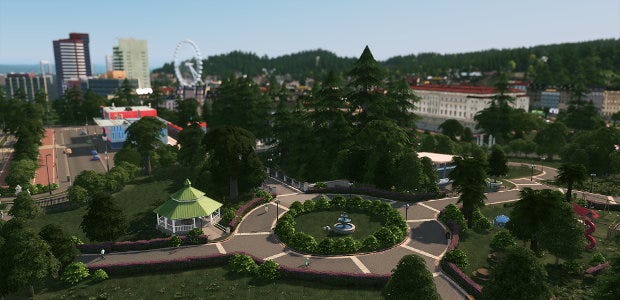 Now that summer is near, Cities: Skylines developers Colossal Order are taking a break from disasters and management to kick back with the Parklife expansion. Released today, it lets builders fancy up their cities with amusement parks, nature reserves, zoos, sightseeing bus tours, and other sources of summertime fun.
As with all the Paradox expansions, so many Paradox expansions, this goes hand-in-hand with a free update adding new features for all players. Expect new props for parks, new models for tourists, and loads of tweaks and fixes.
The stars of Parklife are new props and buildings for parks, zoos, amusement parks, and nature reserves, making them more unique and interesting. Pretty new unique buildings, fireworks, and walking and bus tours are in too. And city managers get new policies and tools for managing parks. It's all about parklife, know what I mean?
Cities: Skylines - Parklife is out now for £11.39/€14.99/$14.99 on Steam.
Also out now is update v1.10. It adds new park props, new types of tree (Corsican pine, yew, sugar maple, and Chinese windmill palm), and new rocks so all players can spruce up their green spaces, whether they buy the expansion or not. You can now use trees to reduce noise pollution too. And... many other bits, pieces, tweaks, and fixes.
See the v1.10 patch notes for full details.
For some reason, publishers Paradox Interactive made this trailer rather than just pointing us to Parklife. Weird.
Paradox also have some 360º Parklife trailers which twist my melon, man.