Clench And Watch The Aliens 'Tension' Trailer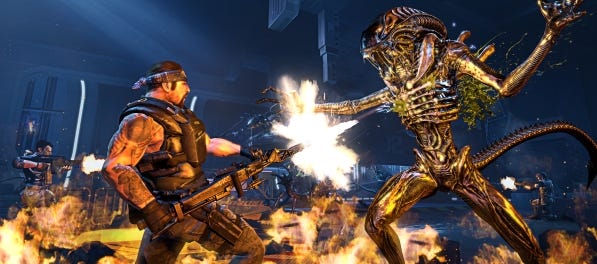 It's impressive how effective the ping of the motion tracker from Aliens is, even after all these years. It tensed me right up the moment it hit in this trailer, but then it showed that the tracker was actually pinging an Sega logo and it all drained away. I'm not scared of corporate logos. Then a man with a beard appeared and told me what tension was, which I believe is probably the definition of 'untense'. By the time another man in the hat turned up, I was positively blaise. No matter, it's more of a discussion about how they're hoping their game will be tense, rather than making me ten - what, what was that noise...? Er, there's a Sega logo crawling towards me.

While I deal with this, sit down and watch the Gearbox - get off my leg - team talk about how they're dealing with the - stop trying to brand me to death - clammy action and fear of the original, while putting their own spin on it. I'm totally up for a co-op bug hunt - look, you don't have teeth and you're in 2D - from a decent FPS developer - oh god, get off my face! Blarrrrrgh!
Aliens: Colonial Marines is out Feb 12th, 2013. Seeeeeeeeggggaaaaaaa.