Cloud Gaming: Microsoft Flight Is Out Today, Free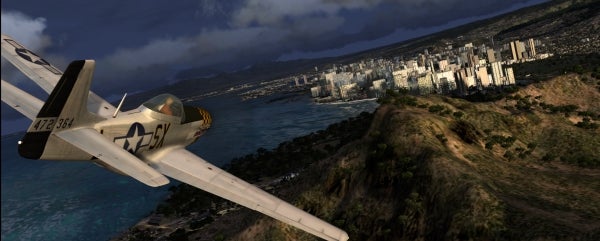 Welcome aboard Microsoft Flight gfwlivesetup_4d5308d2e0000001_DIR.exe. Our free-to-play sim set in the skies of Hawaii, but we've been redirected to land on a strip near Tim Stone's house. He'll be trimming the review rudder for us sometime this week. We offer complimentary Big Island, planes and missions. Drinks and light refreshments, such as additional landscapes, planes and missions, can be purchased from our Marketplace. If you'll look out your window to the left, you'll see the launch trailer. And on the right, that black mountain spitting blood-red lava into the air, engulfing the 'Limping Kitten Cattery' in choking, sulfurous, acid rain is GFWL Mountain. There's no way to avoid it. The stick has locked. We're going innnnnnnnn!

Actually my experience with GFWL in Flight hasn't proven turbulent as before, but I've only launched the game once and tried out the tutorial to make sure it runs. I am keen to see what happens when I get to the edge of the game world. That might be my lunchtime treat for today.