Here's Six Minutes Of CoD: Infinite Warfare's Campaign
Space, man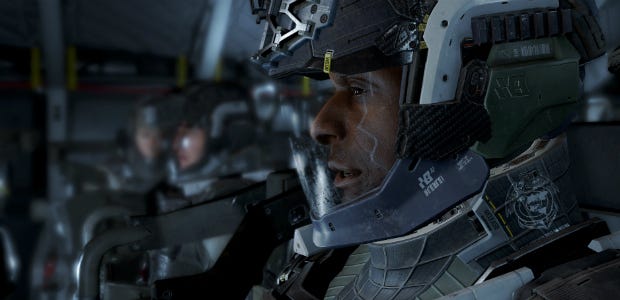 Although Call of Duty: Infinite Warfare [official site] is sadly not the procedurally-generated Escherian Nightmare we might've hoped for, Activision's latest war-torn FPS is set in space and you'll be pleased to know its single-player campaign looks to be shaping up nicely. Don't take my word for it, though - cast your eyes over six new minutes of gameplay highlights below.
You'll notice the following video runs for close to eight minutes, actually, however the last couple are dedicated to Call of Duty: Modern Warfare Remastered - the revamped version of developer Infinity Ward's 2007 classic that's to be bundled in certain editions of Infinite Warfare. Anyway, trailer time:
Quite a radical departure from what we're used to on the CoD front, then, and while it's hard to tell what's on rails and what's not regarding the dog fighting shown there, the transition from inside ship to floaty weightlessness, shooting at and grappling with enemies looks pretty smart. Even though CoD's single-player segments have come on some in recent years, multiplayer is the main reason I've ever picked the games up. This could well change my mind.
While the space setting is a pretty radical departure for the series, it seems more traditional war fiction played a hand in its makeup. Speaking to IGN, design director Jacob Minkoff said:
"We looked at Black Hawk Down. The theme of Black Hawk Down is no soldier left behind. You fight for the guy next to you. It's about brotherhood before all else. And then we looked at Saving Private Ryan, and that's a very, very, very different type of story. Saving Private Ryan is about how Captain Miller, who is a leader — he's leading a squad of men — he realizes that it's not about getting home, it's not about protecting his men, it's about accomplishing the mission no matter what.

"[This is] a story about the journey from grunt to leader. How somebody goes from the simple creed of 'no soldier left behind' to the more complex duty of 'the mission comes first,' what it means to shoulder the responsibility, to know that sometimes, the mission comes before all else."
Oh, and Kit Harrington, who you might know as Jon Snow from Game of Thrones, has been confirmed as Infinite Warfare's "Face of the Enemy".
"Our story is about an epic showdown of opposing forces," says narrative director Taylor Kurosaki. "Kit immersed himself into the role and truly became the embodiment of the enemy, the Settlement Defense Front." So there you go.
Infinite Warfare is due to launch on November 4.
Don't miss the rest of our E3 2016 news this week.