Colin McRae Rally Released On Steam, Sort Of, Not Really
Game names are rubbo, pt. 2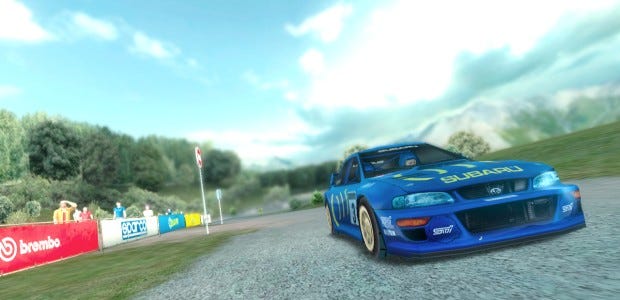 It's easy to think that simulation and sports game are advancing along a straight line of progress, each sequel or yearly iteration delivering a game with better physics models, more polygons, and all towards some objective perfection. To this strawman that exists within my brain I say: not true! As would have been interestingly demonstrated by Codemasters releasing Colin McRae Rally 2.0 on Steam today. The game, a precursor to the modern Dirt series, was originally released in 2000. It was good.
Except that's not what has happened here. This game, called simply Colin McRae Rally, is only "based on" that old game. Instead this is the PC release of last year's mobile version, which used tracks, cars and audio from the older games but was otherwise its own thing. Is that misleading? It certainly confused me for a bit.
Here's the trailer for the re-release:
The description of the game on Steam says that it's "from the developers of the multi-million selling franchise and based on content from the 90% Metacritic rated Colin McRae Rally 2.0". The name, coupled with that description, initially led me to think it was a re-mastering of the original games. Coming to Steam via mobile rather changes things, like travelling to London via Didcot, but there's no mention of the mobile version on the Steam page. Perhaps because the Metacritic for that is 69.
There are a lot of old racing, sports and simulation games from the late '90s I would like to see come to Steam, but if you decide to drop £5 on something you once loved, be aware you might not be returning direct to your halcyon youth.