F1 2015 is free for keeps right now on Steam
The fast cars go fast again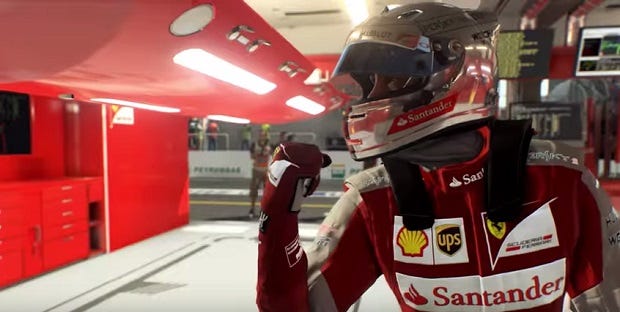 Formula One fans should take note of this small window of opportunity where, not only can you play F1 2015 for free, but it will remain in your Steam library permanently. I'm not sure what else you need to read about it? You click a button and have a free forever game. It is yours. Like so many other Steam games you own, you never even have to install it. It can remain on a list that haunts you, reminding you of Steam sales gone by where you spent hard earned money for digital experiences you'll never even find the time to touch; entire worlds you've promised to visit but will ignore, casting them into some electronic purgatory from whence they cry out to you in the night.
Anyhow, this is a game about racing cars. They go real fast.
** NOTE: ...and just as fast as the cars, this free game promotion and sale have already ended. Well. There's that. **
You can grab F1 2015 right here, right now.
In addition, F1 2017 is currently 70% off, so if you find yourself enamored with the 2015 version, maybe grab the newest iteration at its cheapest sale point yet. The game was last patched at the end of March, so it's still being supported ahead of the next installment. Over the last few years, the official Formula One racing titles from Codemasters have all come out in August, so I'd expect to see 2018's version dropping then.
F1 2015 had a bit of a bumpy release, and was supposed to make up for the misstep of a title that Codemasters released in the 2014 version.
In November of last year, Brendan reported on a car in F1 2017 that appears to be the work of a modder who recreated the classic vehicle for a completely different game. So, do with that what you will. I think I'll just be picking up the free title today.
Have a look at F1 2015's features trailer below.