Computex 2015 Round-up: Robo PCs And A Whole Lot More
Alec, your PC has arrived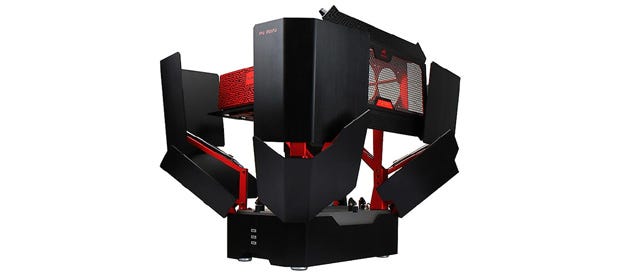 With tech conference Computex 2015 a wrap, it's been a launchtastic week or two for PC clobber. We've seen a new GPU from Nvidia, those new Intel CPUs, 144Hz-plus-IPS-plus-G-Sync, all kindsa new SSDs, Transformer-style PC cases, G-Sync-touting laptops, pr0n-proof keyboards with pseudo-mechanical switches. The notion that the PC industry has become dull and commoditised hardly stacks up.
Here's a round-up of the Computex news and what of it matters to you.
First up, Asus's new ROG monitor. The Asus ROG Swift PG279Q looks like a dead ringer for the existing PG278Q but this time with an upgrade from TN to IPS panel tech.
The PG278Q ticked so many boxes. 144Hz refresh, G-Sync support, Goldilocks 2,560 by 1,440 resolution that packs plenty of detail without giving your graphics card a 4K-style hammering - it very nearly has it all. But the moment you fired it up, the sludgy TN panel was all too obvious.
The PG278Q wasn't exactly cheap, either. Upgraded with an IPS panel, it's not going to be any cheaper (pricing has not been revealed as far as I am aware, but I fear something north of £500 / $600). But it does rather add up to the current Holy Grail of monitor specs given that running 4K at 120Hz-plus just isn't realistic.
Is this as good as gaming monitors get?
Actually, running one of those 3,440 by 1,440 super-wide jobs at 120Hz probably isn't a goer, either. So the new ROG might just be it. That's assuming, of course, they've manged to successfully marry super-high refresh to what has traditionally been a slightly slow-responding LCD panel technology.
Speaking of ticking a lot of gaming boxes, you can now have laptops with the lot – dual GPUs, multiple M.2 SSDs in RAID configs and Nvidia's frame-smoothing G-Sync tech. Aorus's bonkers X5 has all that (the GPUs in question are Nvidia 965M jobs) in a mere 15-inch chassis. How much is it? Lots. In which markets is it available? Clarity is not forthcoming, but it doesn't really matter.
All your gaming needs in a (probably very pricey) portable...
It's not actually unique in having this manner of feature set, so the point is to be aware that this kind of thing is available if you are looking for a gaming portable.
Nvidia, of course, has wheeled out its slightly-less-than-insane money GeForce GTX 980Ti. It's the now-traditional one-rung-down-from-the-very-top GPU based on the mega Maxwell 2.0 chip found in the Titan X board.
As ever, it's cut down from the Titan X. 3,072 CUDA cores become 2,816 and the graphics memory halves to 6GB. But it's still an eight billion transistor monster and officially priced at a mere $649 to the X's £999 (a little over £500 to we Brits). You'd have to be a monetary masochist to choose the X.
A hill of money buys you a whole lot of Nvidia shaders...
Oh, yeah, and AMD's new uber graphics card is due to be revealed on the 16th.
Next, what would a PC case look like were it a Transformer? I imagine this is a question that passes through Alec's aging, desiccated and Optimus Prime-obsessed synapses on an hourly basis. The answer, quite simply, is the utterly brilliant In Win H-Tower (actually a joint effort with Asus, apparently). At least, it looks utterly brilliant in pictures and video.
It's a Transformer-style PC case. And it does its Transformer thing at the touch of a button. Do I need to say anything more?
Yes, you will be able to buy it later this year
Computex has also been subject to an onslaught of new SSD technology. Actually, it's all a bit frustrating because much of the new kit involves solid-state drive controllers with NVMe support from the likes of Silicon Motion and SandForce (the latter now a sub-brand of Seagate). Sounds good, but it's actual drives we want to see.
Speaking of SSD tech that needs to get its act together, the snappily titled SF-8639 interface has been rebranded U.2 in order that it sits nicely next to M.2. U.2 is basically PCI Express for regular 2.5-inch drives connected via a cable where M.2 involves exposed circuit boards and multi-pin slots.
We've been through much of this before, but the whole NVMe, M.2, SATA Express, SF-8639 and now U.2 mess seems to have been intentionally dreamt up to baffle as many people as possible.
Hopefully, it will all settle down soon and we'll be able to discover if the NVMe control protocol combined with the speedy PCI Express interface really does make for storage nirvana. Here's hoping.
Anyway, like I said despite a general sense that the PC market has become dull and commoditised, there's still plenty of whackiness going on. Like 4GHz DDR4 memory, water coolers with pumps integrated into the cooling block and that pr0n-proof keyboard.