Corsair launches their second gaming chair, the T2 Road Warrior
The perfect chair for American Truck Simulator?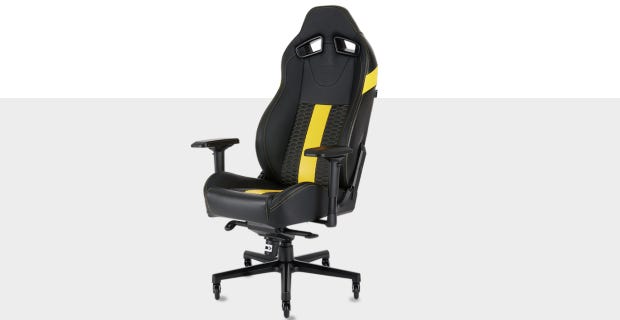 When you think of Corsair, you probably think of RAM, keyboards and gaming headsets like the Void Pro RGB, but did you also know they make gaming chairs? Well, you do now, and their second such chair, the T2 Road Warrior, is about to bring all the bells and whistles to the world of derriere gaming support thanks to its many degrees of tilt and reclining comfort. And before you ask, no, there isn't a single RGB LED in sight.
Available in five different colour highlights, the T2 Road Warrior is the wider, more comfortable spawn of Corsair's first gaming chair, the T1 Race, which originally came out around this time last year.
While the T1 Race was, as its name suggests, designed with racing in mind (probably so it wouldn't look amiss among all those other bucket seat-type jobs favoured by Twitchers), the T2 Road Warrior looks to be a much more low-key kind of chair that's suited to long gaming stints, when all you want to do is settle down into a heady afternoon of American Truck Simulator, for example.
To that end, it comes with 85mm of seat height adjustment courtesy of its class 4 gas lift mechanism, adjustable neck and lumbar pillows wrapped in soft, microfibre fabric that you can move up and down the back, and a perforated PU leather seat back and cushion to help keep your back nice and cool. More importantly, the armrests can be moved in several directions, including up and down to get the right height, left and right to fit your body type, or forwards and backwards depending on whether you like to play lying back or bolt upright at your desk.
In addition to 170 degrees of seat recline, you also get up to 17 degrees of seat tilt, the latter of which isn't available on the T1 Race. The T2 Road Warrior also comes with a cast aluminium five-spoke base (another upgrade over the T1 Race's plastic base) but uses the same rollerblade-style wheels for smooth movement across hard and carpeted floors alike.
Those of larger builds will also be pleased to hear the T2 Road Warrior is rated for a maximum weight limit of 140kg (300lbs, or 22 stone to us Brits), as opposed to the 120kg (264lbs or 18.9 stone) limit on the T1.
I'll hopefully be getting one in for review soon to give you the full lowdown on what it's like and how comfortable it is on the old hind quarters, but for those who want to try one out for themselves before then, you're looking at spending at least £300 before you can get one. The T1 Race, on the other hand, can still be found for around £290.