Coulrophobia Begone: Devolver To Publish Dropsy
Send in the clowns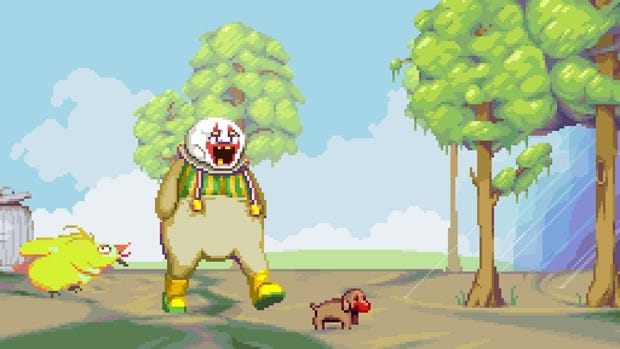 This is an odd little tale. Dropsy is a creepy but carefree clown living in a grotesque world. He has adventures of the pointy, clicky variety, although without the swarms of words that usually accompany such journeys. The people and things of Dropsy's world communicate "through visual icons", most of which are probably also creepy and/or grotesque. The clown is trying to clear his name following a fatal circus fire. Those three words rapidly conjure the odour of burning grease paint and the sound of screaming elephants. That's not the odd part of the story though - the odd part is how the game's production has unfolded. A failed $25,000 Kickstarter was followed by a successful $14,000 attempt, which is still running, and now Devolver Digital have picked the game up for publication, offering "additional development, marketing, and production funds".
This video explains how the traditional adventure style gels with Dropsy's 'open world'.
Devolver's CFO, the inimitable Fork Parker, had this to say: "You had me at visual dialog. We're going to save a boatload of cash on localization."
Wonderful.