Counter-Strike: Global Offensive revamping Dust2
A classic continues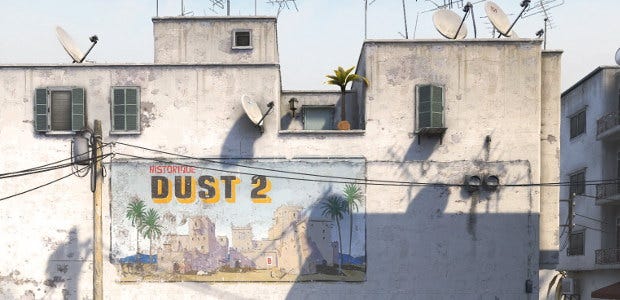 Update: The new Dust2 is now live in the beta branch and Valve have detailed all the changes. It looks great! The Leet Krew get a makeover too.
Counter-Strike's De_dust2 is surely one of the most-reproduced levels in video games, remade and reinterpreted and parodied by fans across dozens of different games. Yet another one is coming our way soon, though this one is official. An "updated" and "refined" version of Dust2 is headed to the next test version of Counter-Strike: Global Offensive [official site], Valve announced last night, "coming soon." Dust 2 was removed from the regular rotation back in February, though not from the game entirely. Valve aren't quite ready to reveal the extent of changes but do share a teensy peek.
The wee teaser image shows that, much like the recent reworks of Nuke and Inferno, the new Dust 2 will scrub off a lot of the murk and muck of early CS:GO levels. It's also looking a lot less war-ravaged. See the full view (and click it for a bigger version):
I'd guess that's from the Terrorist team spawn area, yeah?
They're really rebuilt the neighbourhood.
Beyond visual makeovers, Valve's other revamped maps have tweaked layouts a little to improve play. I'd probably expect the same for Dust2, though we'll likely not see anything major - it is a classic, after all.
Given what "coming soon" means to Valve, this new Dust 2 could be on test servers next month, tonight, or next year. No idea.