A secret CS:GO bunker is sharing newspaper reports on the war in Ukraine to dodge Russian censorship
In honour of World Press Freedom Day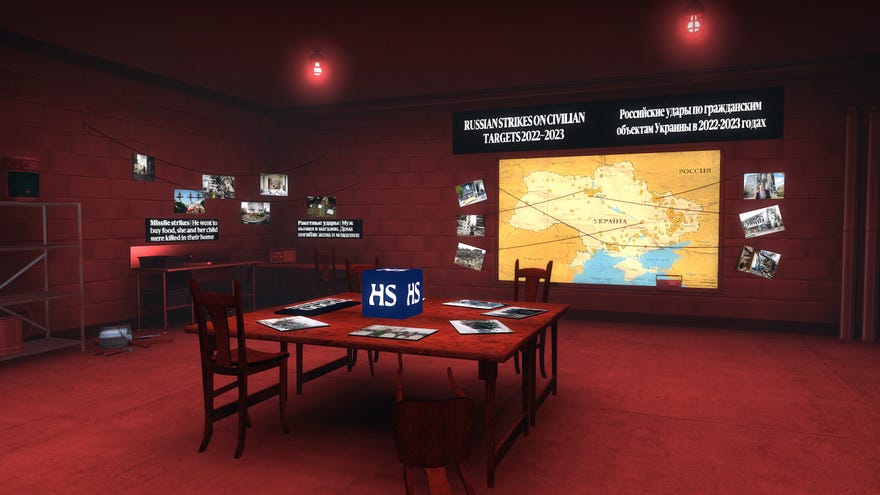 A Counter-Strike: Global Offensive map is being used to sneak information about the ongoing invasion of Ukraine to Russian gamers. Players can download the de_voyna map, which recreates an abandoned Eastern European city that's not too dissimilar to the war-torn streets you might find in other multiplayer maps. The difference here is a secret underground room that contains information about the invasion: headlines, maps, newspaper clippings, and images of the war.
The initiative has been spearheaded by the Finnish newspaper Helsingin Sanomat, which had its site blocked by Russian authorities last year. In a statement, the paper's editor-in-chief Antero Mukka said: "Russians have very little chance to receive independent information about Putin's invasion of Ukraine. However, the gaming world and gamers themselves are still left unchecked. That's why we decided to hide a newspaper inside the world's most popular war game."
Mukka continued: "As the Russian government has de facto suppressed its national press and blocked access to foreign media, Counter-Strike has remained as one of the rare channels that allow us to communicate independent information to Russians about real events from the war."
While companies like EA, Epic, CD Projekt Red, and Microsoft have stopped selling to Russia, Valve have continued to operate in the country, meaning CS:GO and the de_voyna map is still accessible to players there, at least for now. As of last year, it's been estimated that Russia has an active CS:GO player base of around four million people in total, although it's currently not clear if those players could get this information by other means. At the very least, the de_voyna map is a good conversation starter.
The secret room contains info and images from the war captured by Helsingin Sanomat's reporters and photographers. There's even a map attached to the wall, detailing the number of bombings that the Russian military has aimed at civilians. The end of Helsingin Sanomat's article delves into some of the war stories inside the secret room as well. Do give it a read.
CS:GO's de_voyna map is an interesting intersection between art and political protest, but thankfully, it's not the only initiative of its kind. A few years ago, Minecraft's Uncensored Library republished banned writing and based each wing of the library on countries accused of censoring journalism: Russia, Vietnam, Mexico, Saudi Arabia, and Egypt.