Counter-Strike: GO's Operation Bravo Earns An Encore
Technically it never left the stage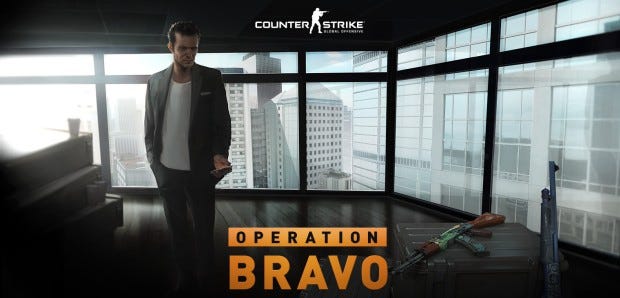 Counter-Strike: Global Offensive's Steam Workshop is full of custom-made maps for the veteran multiplayer shooter, but under normal circumstances those maps can only be played on certain, custom servers. Operation Bravo takes eight of those community maps and makes them playable on official, ranked matchmaking servers in Casual, Deathmatch and Competitive game modes. For $6/£3.50.
The event was set to end this past Monday, but Valve have extended it til February 5th. Because, as the CS: GO blog explains, it's proven so popular.

The pack includes eight maps - Agency, Ali, Cache, Chinatown, Gwalio, Ruins, Seaside, and a re-imagined version of old classic, Siege. It also nets you access to 15 map-themed weapon finishes, so you can paint up your favourite murder-funnels real nice with, like, teeth in the front, and realistic scuffing around the handle.
Also it comes with a coin. The coin is upgradable and tracks your stats.
It seems almost passé to write about anything Counter-Strike-related at this point. Hasn't everyone played it already? Don't you all know that it's good? But Valve have rejuvenated my interest in the game with Global Offensive so completely that I find myself excited about it again. I want to lick the succor of every new microsite, coo politely at the reveal of each new case full of weapon skins, and re-capture my teenaged years by making shitty maps for it.
Ah, I just bought it. Just there, after writing that paragraph. It only cost me 55p and I don't know why because the site says it's $6, but there we go.
As per tradition with today's news posts, here's a link to something Rich Stanton wrote, this time about gambling away his guns and items on competitive matches.
Lick your own succor from the Operation Bravo microsite for $6/£3.50/55p maybe. 2.8 million played-hours for this update can't be wrong. Although the experience had during those hours can be subjective, so make your own mind up.