Crossing Souls goes back to the future in February
Lookin' pretty McFly there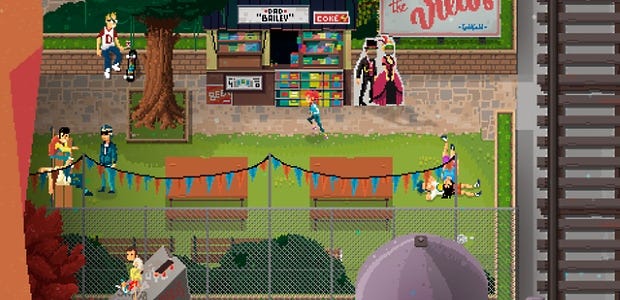 It feels like so much has happened in the world since we first saw Crossing Souls, an ambitious 80s-tinged action adventure about a band of mismatched tweenage kids thrust from a life of small-town suburban normality into fighting against a dangerous government conspiracy to control a parallel dimension and the powers it holds.
For starters, we've had two seasons of Stranger Things.
Not dissuaded by the Duffer Bros' totally biting their style, Spanish studio Fourattic have been grinding away quietly after their mildly successful Kickstarter. Now paired with publisher Devolver, they're ready for the game to be seen again, and have a new trailer for us, along with a firm release date on February 13th.
Wow, it's really hard to shake those Stranger Things comparisons, huh? Despite the somewhat lighter tone (the otherworldly place is a synthwave-tinged ghost realm, as opposed to a a writhing, living hell-dimension), there are just so many similarities as to be a little scary. Granted, the game itself is a huge grab-bag of 80s 'kids in supernatural trouble' adventure films (The Goonies, especially), but seeing the same set of elements put together in a slightly different configuration is positively uncanny.
Of course, it looks like Crossing Souls goes a lot further with its references. Why reference Ghostbusters when you can have some no-holds-barred Back To The Future action happening, as seen in the trailer? The fantastical elements get a solid showing here too, thanks to the enormous looming dragon in the background of one scene. While it's still going to be some time until we get our grubby mitts on the game (February feels like an eternity away), I'm getting some pleasing Chrono Trigger and Terranigma vibes from the trailer.
I'm not entirely sold on the chunky cutscene/trailer animation - it seems a little short on frames, even by 80s budget animation standards - but the sprite art of the game itself is gorgeous as always, and smoothly animated. Most of the game's Kickstarter update posts have been left open for the public to peruse, so you can get a much deeper look at the game over there. The game was declared 'content complete' all the way back in May, but they've been tweaking, tuning and polishing it ever since.