Ride eternal, shiny and chrome: Crossout hits open beta
Witness this!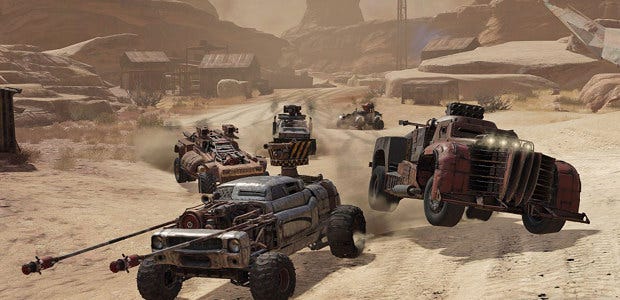 Online post-apocalyptic car combat game Crossout has left paid early access and rolled into free-to-play open beta. Crossout lets players build their own scrapcars then drive into battle with PvE missions and PvP action. Our boy Brendy had a play during the early access days and dug the core of it, though not the grind. I guess we'll see how much has changed over the past nine months. For now, a launch trailer:
Crossout is made by Targem Games, who were behind scrappy car 'em up Hard Truck Apocalypse (aka Ex Machina), and published by the War Thunder gang at Gaijin Entertainment. A bit like War Thunder, the free-to-play grind to unlock car parts by playing rather than paying sounds like it becomes a real chore. Brendy said:
"I cannot emphasise enough how much of a shame this is, because the actual game buried underneath all this nightmarish grind-goop is excellent. Build a weird apocalypse car and go to war in it? Yes, please! If only you could make things like those shown in the exhibition tab without jumping through all these disgusting hoops. Some hoops? Fine. But not these hoops. These hoops are rotten."
The update taking Crossout from early access to open beta added a new PvP map and a new faction to befriend. Building your reputation with the Steppenwolfs will let you unlock mechanical legs to make a walking car, which sounds wild. See this for more details on the update.
Right now, Crossout's open beta is only available through its own client on its site. While early access was through Steam, the Steam open beta version will follow later. The official word on this weirdness is that "there has been some concerns regarding server overload if both the non-steam communities and the Steam communities were able to flood the game all at once." Players will be able to start playing this then link their Steam account and continue there later, if they want.