This Week In Skin Gambling: Legal Letters; Dodgy Deals
Keeps getting messier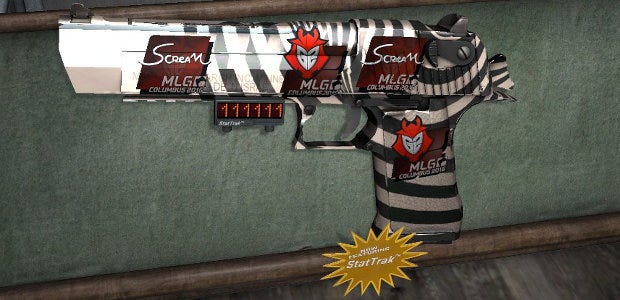 I remember simpler times when Dota and CS:GO items existed to give our wizards fancy hats and our AWPs hideous paintjobs. Now they're used as chips in unofficial gambling. They've sparked lawsuits accusing Valve of enabling illegal underage gambling and seen scandals over YouTubers being secretly paid to promote skin gambling sites - or even secretly owning the sites they promoted. Oh dear. What's new in the world of skin gambling this week? Well, Valve started sending "cease and desist" letters and more players and YouTubers became implicated in shenanigans.
If this sounds dry, don't worry: someone named Karl Quackenbush is involved.
Hoookay! Where to begin? Brief recap. Skin gambling is a type of online gambling using Steam cosmetic items as chips in everything from roulette to betting on professional matches. People bet skins to win skins, and the house takes a cut. None of this is run or endorsed by Valve but it is made possible through Valve's Steam APIs. The same thing that lets Dotabuff calculate your Dota statistics also lets gambling sites in. Combining that with bots, skin gambling sites let people bet, win, and lose cosmetic items. It only takes a Steam account and some spare skins, generally without verifying users' age or identity. And while Steam's own Community Market only lets people sell items for Steam store credit, some can be very valuable if sold for real money outside Steam - so there is an unofficial, risky way to cash out.
Researchers have estimated that 2.5 billion dollars' worth of skins were bet on the outcome of matches in 2015. That's not the same as people making billions of dollars in actual money but gives an idea of scale. That's just betting too, not including other forms of gambling.
Valve this week started cracking down on skin gambling sites, as they had last week said they would. They've started with letters ordering sites to stop, and threaten to dish out punishments if sites don't heed the warning. Gambling site CSGOBig shared the letter they received from Valve's general counsel, Karl Quackenbush. Mr. Quackenbush's letter said:
"Re: Violations of Steam Subscriber Agreement

"We are aware that you are operating one of the gambling sites listed below. You are using Steam accounts to conduct this business. Under the SSA Steam and Steam services are licensed for personal, non-commercial use only. Your commercial use of Steam accounts is unlicensed and in violation of the SSA. You should immediately cease and desist further use of your Steam accounts for any commercial purpose. If you fail to do this within ten (10) days Valve will pursue all available remedies including without limitation terminating your accounts."
Some sites decided to shut down after Valve's initial announcement, while others had hopes of reworking themselves a little to comply with Valve's policies but still keep running. Some have yet to acknowledge any of this.
But given the sprawling mess of CSGO gambling and its different aspects and scandals, here's a quick rundown of other recent developments.
In the realm of the unverifiable but interesting, Richard Lewis had a look at chatlogs supposedly obtained by a hacker. These logs say, among other shocking things, that skin gambling site CSGOShuffle has made over $3 million.
Elsewhere, skin gambling site CSGOWild this week explained that it has paid some members of eSports team FaZe Clan in cash, skins, and 'emeralds' (gambling chips, basically) to promote the site in YouTube videos. Only the FaZe folk didn't disclose that sponsorship at the time (they have since been adding notices). At best, that's bang out of order.
Do remember that the FTC recently fined Warner Bros. over disclosure statements on sponsored Shadow of Mordor videos.
Another twist in the CSGOWild story: HonorTheCall has gathered supposed chatlogs seeming to show that the site is actually owned by leaders of FaZe. That'd be a wee bit different to mere sponsorship.
This might, at the very least, have serious consequences for FaZe's CS:GO team. Professional teams "should under no circumstances ... associate with high volume CS:GO gamblers", Valve said last year after banning several players for match-fixing.
As for wider consequences for all of this skin gambling, sheesh, we're on the wild frontier here, gang. Over the next few years, I imagine we might see a lot more regulations put in place - and punishments doled out - for things like this.
It's taken me ages to post this because I keep waiting for more new and terrible developments but perhaps I'll just stick to periodic article-based lines in the sand with this whole farrago.