Cyberleak: Deux Ex - Mankind Divided Revealed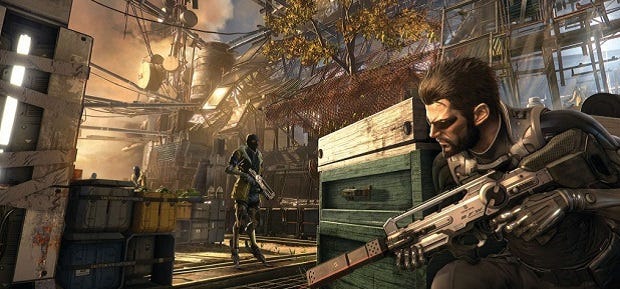 Square Enix have been teasing a project for the last couple of days, with the codename Project CKP - Can't Kill Progress. Now, Neogaf user arturkrang has revealed what appears to be confirmation that CKP was building toward the long-awaited Deux Ex: Mankind Divided reveal. The leak comes via Kanobu, a Russian website (as detailed here), and contains images, including the one above. The rest are below.
We knew there was more Deus Ex cooking in the nanotubes and hopefully we'll have more information soon. You could go and participate in the "interactive reveal", happening over in Twitch land, or you could keep your eyes firmly affixed to RPS. We've contacted Square Enix and we'll let you know as soon as we hear anything.
For now, feast your augmented peepers on these pics:
AN AUGMENTED GUN (possibly sentient?)
BLADERUNNER (Final Cut is showing in a cinema near me and I haven't been to see it yet because I'm a fool)
NEO-NEO-CLASSICAL STATUARY
LASER SIGHTS BROUGHT INTO ACTION TO SHOOT AT DISTANT GIANT WITH UNPROTECTED CROTCH
Did you ask for th- [SNIP that's enough of that - ed]