Cyberpunk "Bigger Than Anything CD Projekt Has Done"
"stepping into the unknown"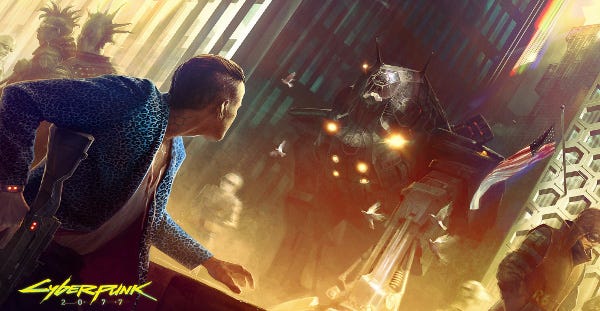 Details about Cyberpunk 2077 [official site], CD Projekt RED's long-in-the-making sci-fi RPG that will, so far as we know, be their follow-up to The Witcher 3: Wild Hunt [official site], are rarer than miracle cures for wartime Russian mycotoxins. Even rarer is the slightest implication of a release date. However, CDP are happy to reveal that this is no mere experimental side project - "We're really stepping into the unknown in terms of complexity and size."
This comes from a short interview between MCV and CDP's visual effects artist Jose Teixeira. "Cyberpunk is far bigger than anything else that CD Projekt Red has done before," he claims. "Far, far bigger." Hopefully this means we can leave any lingering paranoia that it'll be The Witcher 3 with a silver skin at the door. The Witcher 3's already vast scale - and success - will inform the eventual Cyberpunk game, however. "If anything, working on The Witcher 3 was a really good and often brutal learning experience. Cyberpunk is going to benefit greatly from it. I can almost guarantee it."
Unsurpisingly, Teixeria wouldn't be drawn on a release date, apart from joking about 2077. CPD have previously stated that they won't even begin meaningfully talking about the game until 2017.
This would make it five years since the game was first announced, and two years later than The Witcher 3's release date. It'd be lovely if the thing was actually released in 2017 - a two-year gap between projects makes a certain sense - though I'm not convinced they'd be happy to make a promotional cycle for what is, to most casual onlookers, a new IP quite that short. (It's not really new, of course - Cyberpunk 2077 is based upon 80s/90s tabletop RPG Cyberpunk, aka Cyberpunk 2020). Especially given they've also talked about their expectation that this would be more even more successful than the already monstrously popular Witcher 3.
Patience is difficult - after The Witcher 3 was such a fine surprise I'm very keen to see this studio try their hand at something entirely different, and they do scuzz so well. If it means a bigger, better game then, well, I can suck it up.