All Is Full Of Dad: Live-Action Dad By The Sword Trailer
Send in the dads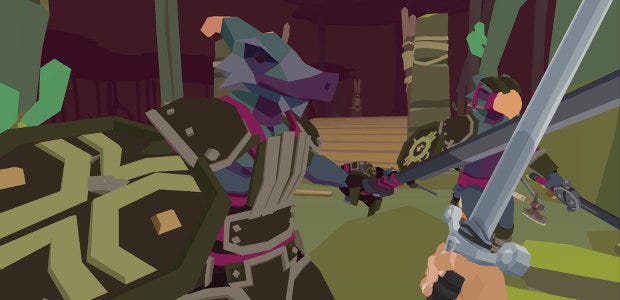 Does the latest Dad By The Sword [official site] trailer tell us much new about the first-person dad-action-RPG? Nnnooot really (you get a nice look at your dad's bejorted leg as he kicks a monster, mind). The trailer does, however, have the best live-action sequences since Roundabout. I never knew dad was such a versatile - and prevalent - element.
Released on Father's Day, the trailer sees designer Chip Whiteman explaining the game's profound story with his own dad playing an action hero. And a sword. And... he's a very versatile actor, that there dad.
Dad By The Sword is a first-person roguelikelike action-RPG with swords and dads and treasure and kicking and dismemberment and smashing armour and procedurally-generated levels and permadeath. I'm getting a Dark Messiah of Might & Magic vibe from its man-kicking, head-lopping action and I'm up for that. Hurling bowling bowls at enemies to knock them down is a fine extension of goofy combat physics. The super-goofy narrator is great too. I like a lot about this game.
Rocketcat expect to release Dad By The Sword in late 2015 or early 2016. That'll give you time to tidy up and get your dad's favourite beer in.