Danganronpa V3's free demo is suitably weird
Evil robot bear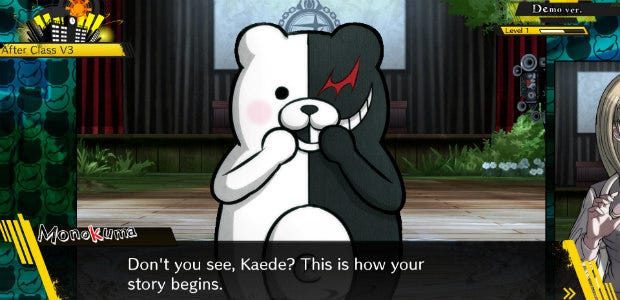 Danganronpa V3: Killing Harmony [official site] has a free demo ahead of its full launch on September 26, and it's about as weird as you'd expect. You're trapped inside a school with an evil robotic bear called Monokuma, and the only way to escape is to murder a fellow student and get away with it by not getting found out during the ensuing trial.
It's half-visual novel, half-adventure game in which you have to complete "high-speed, logic-action" mini games to find flaws in various arguments presented in the trials and find out the culprit. You can lie to confuse your fellow classmates as well. I didn't get as far as a trial in the demo (you can skip straight to one if you want) but I have walked the schools' corridors and spoken to its characters. I'm suitably impressed with the stylish presentation, although I had a few technical issues.
All controls are shown as gamepad buttons by default and there's no way to see the corresponding keyboard controls. So, basically, I had to guess which keys to use for what I was supposed to do next. The options menu generally is very limited: there's no way to change the resolution, for example. That's especially worrying because the game opened in a windowed mode that wasn't quite centred on my screen, so a far right slither was cut off. Bizarre.
But hey, if you don't know whether Danganronpa is for you then now is your chance to try it for free. And as far as the setting goes, it's certainly pulled me in.
If you're interested, download the Danganronpa V3 demo on Steam.