A Little Extra Darkness: Dark Souls II Revamp Coming
Fancier graphics and more more players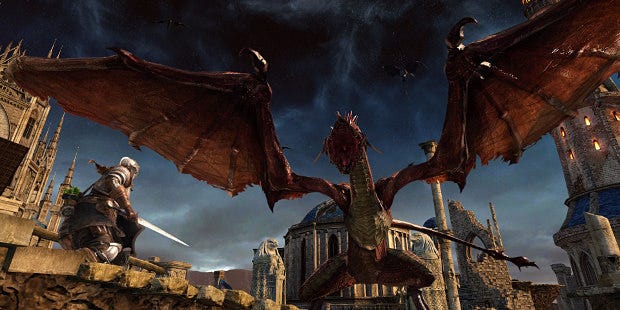 Gawd bless the new generation of consoles and the revamped re-releases of recent games publishers are putting together to take advantage of them. This gives us the nice knock-on effect of our games getting better, prettier, and generally fancier. Dark Souls II is the latest getting the revamp-o-release treatment in Dark Souls II: Scholar of the First Sin, a bundle including the DLC.
More than that, it'll also improve graphics, add new NPCs, improve matchmaking, boost performance, raise the playercount, and other fine things. Some of those features will come in a free update, but others I'm a little hazier on.
Here's the new stuff publishers Namco Bandai say is coming to the base game in that free patch:
Additional NPCs added for an enhanced story experience.
Parameter adjustments for improved game balance.
Augmented item descriptions.
Improved online matchmaking functionality.
A DirectX 11 version adding this other stuff is also coming with Scholar of the First Sin, though Namco Bandai are a little less clear about whether this'll be in the free update or if folks will need to pay for it. "We'll have lots more info in the next month regarding PC versions/upgrades/etc. so stay tuned," they're saying on Twitter.
Additional upgrades to graphics, sound, performance.
Increase in maximum online players in single session (6 total).
Fingers crossed that this fancying-up includes updating the lighting to look more like those moody early trailers, with those dark shadows that became all washed-out by the time the game launched. The announcement trailer certainly seems to have a few dark-dark places:
Scholar of the First Sin is due on April 7th, 2015 - in North America, at least - so presumably the patch is arriving around then too. I'd been planning to finally start on Dark Souls II over Christmas, but might hold back now. Hmm!