Darksiders 3 Is Still Planned, Obvs
Natch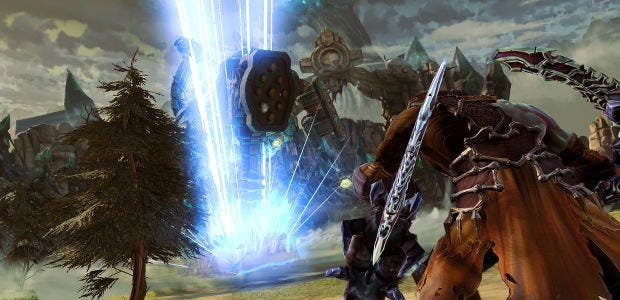 Can even the Four Horsemen survive an apocalyptic event? Nordic Games hope so. When THQ went down in flames, Nordic bought up Darksiders - but not its creators, Vigil Games - and (naturally) declared that the hack 'n' slash action-RPG was not dead. While some assumed this would mean a Darksiders III, Nordic were a little vague, and the first we saw of DS again was the revamped Deathinitive Edition of Darksiders II - which hit PC last week. Worry not, they do indeed want to make a third game, and hope this re-release will help them with that.
Posting recently on the Steam forums, one Nord said:
"Darksiders 2 Deathinitive Edition was just the start. Since we acquired the franchise we were looking for options for doing a DS3. The remaster was just a way to get some spotlight on the franchise again, reactivate the community and have a better starting position for DS3."
Hop to it!
The Deathinitive Edition of DS2 (it's rebalanced, prettied-up, and comes with all DLC), did launch with a few problems, but fixes are coming. You can download a beta patch if you're impatient, though obviously that may have problems of its own. Nordic offered an 80% discount on it to folks who owned the original version of Darksiders 2, though their plan to give it free to folks who'd bought all the DLC too got complicated.
The Deathinitive Edition was worked on by Gunfire Games, by the way, a studio founded by a group of former Vigil Games folks after the studio went down with THQ. They're currently making VR game Chronos, though they do list something named Project X, which is the kind of teasing name that might over-excite the excitable.
There's a terrible joke somewhere in there about "if wishes were horses..." and how Darksiders II lets you press C to summon Death's horse, Despair. Let's workshop this - it's a great space here, you know.