Dead in Vinland is a neat looking survive 'em up
Living that exile life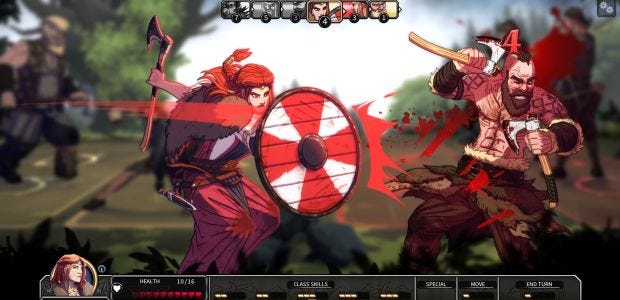 Dead in Vinland strikes me as The Banner Saga meets Darkest Dungeon. For a start, everyone looks utterly miserable. It's a survival/management game with RPG elements where you play as a viking family, exiled and shipwrecked on an island. Is that island a peaceful place of bountiful splendour? Given the number of things you have to manage in order to keep your exiles from either dying or spiralling into a mental health crisis, I'd say not. There are people out to kill you, too.
It'll be out in early 2018, and there's a trailer below that shows off everything from camp management to RPG style choices to combat.
It's all turn based, and a core part of the game revolves around managing the health, both physical and mental, of your survivors. There are mouths to feed, storms to weather and camp upgrades to build - but each character can only be assigned one activity each turn. Don't forget this is an RPG too, so you'll have to think about their various skills and whatnot. It's not all cooking and construction, either - there's tactical turn based combat that looks particularly Darkest Dungeon-ey.
There's a lot going on, but if the game can tie all of those elements together in a satisfying way then this could be one shipwreck I'll happily jump on board.
While that all sounds interesting enough, but I'm especially intrigued as to how Dead in Vinland ties into its predecessor, Dead in Bermuda. Dead in Vinland swaps out Bermuda's modern day plane crash for a viking shipwreck, but devs CCCP suggest on Steam that both games take place in the same world:
"From the start, we wanted to build a world where all the games in the series would fit. If you played DiB, you may have noticed... Strange... Things. With no real explanations. More explanations will come in DiV, which is not a direct sequel but shares the same base gameplay and backstory."
It reminds me of how Amplitude's Endless Legend and Endless Space are set in the same world but aeons apart. This is more subtle than that, and might be all the more interesting because of it.
Dead in Vinland will launch early in 2018 on Steam. Hit the game's site for more information.