Deadfall Adventures Slips To Sept, Announces Co-Op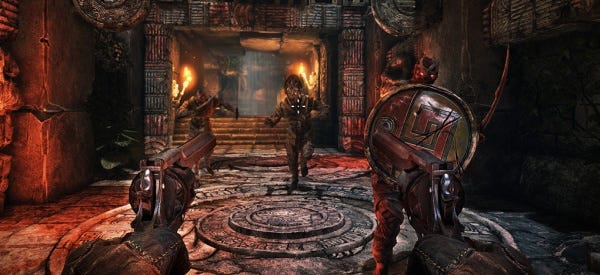 I do love it when a press release attempts to sell a slip as a piece of news. Deadfall Adventures' release date was so very much set for July 30th that its own website still hasn't shaken the belief. Today it announces it's "confirmed for September 27th release". Phew, confirmed! Anyway, that peculiarly needless griping aside, the real news is that they've announced a co-op mode for the third-person actioner.
From Polish devs The Farm 51, who previously gave us okay NecroVisioN and not great Painkiller Hell & Damnation, the immediately comparison is Uncharted, but as an FPS.
With an emphasis on puzzle solving and exploring, it's obviously a departure for the dev's previous focus on madcap shooting frenzies. Picking up on Indie themes like fighting to beat the Nazis and Russians to ancient treasures, here the Heart Of Atlantis. You're playing James Quatermain, who I assume is a descendent of Haggard's Allan Quatermain.
Of the co-op they say,
"Adding the new survival cooperation mode adds even more content to the game which is always going to be a bonus for players. The new mode will be both challenging and engaging and players will be able to jump straight into the game to get the best of the action."
Frustratingly there's not been a trailer since the original, rather vapid announcement release back in February. Here it is again, but it would go a long way to reassuring people after a slip to show some in-game footage at this point.
Update! Ooh, splendid. A Farm 51 dev gets in touch to point out Gamespot have some in-game footage for us all to see!