Death Road to Canada big update recruits Cold Steel CEO
Dads with swords!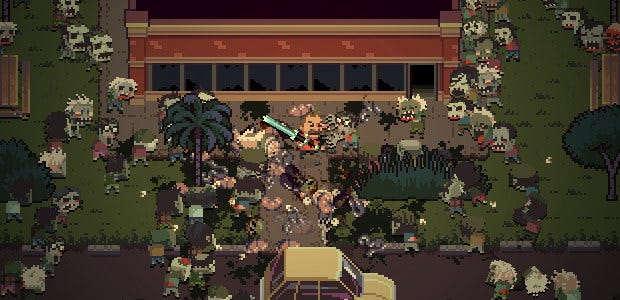 Death Road to Canada [official site] has launched a huge update expanding and tweaking the zombie road trip action-RPG in exciting ways. Death Road is my favourite of recent Oregon Trail-y games, not just for having party members including dogs in trenchcoats and a magical girl who grows more powerful (and more anime) until she melts then explodes, and this update improves a lot I've griped about. More than that, it adds an Internet icon. Lynn C. Thompson, who you might know for swinging swords at plywood and carcasses with his pals on YouTube as the CEO of Cold Steel, is in.
I do hugely enjoy Cold Steel's videos demonstrating their products. In sets which look like they were made for the Church's drama society Christmas pantomime, middle-chaps dressed as door-to-door salesmen pose moodily between attacks against plywood targets, ropes, barrels of water, ballistic gel dummies, and animal carcasses. They're armed with swords! Axes! Daggers! Sometimes they do chin-ups on swords too. Ah sure, I'm mocking but it's warm. They remind me of my dear odd uncle showing off his nunchaku moves after a Guinness or two, only Cold Steel are way, way more American.
Last time I mentioned Cold Steel, commenter 'FuriKuri' pointed out this excellent Duran Duran song parody: Dads With Swords.
Oh, and the video game? The full patch notes for the 'Aorta' update are impressive both for the tweaks they detail and for the joy of reading them. Rocketcat Games understand that patch notes can be fun in themselves. I've pulled out some highlights:
Accessing your car trunk when in a trading camp or city. Remove or put in excess weapons!
New weapon tag that lets us prevent the AI from using certain weapons. Among other things this means they'll no longer throw grenades at you.
New road event: The Weegee Board. Yes, the real thing is still trademarked.
Rare Traders added: Lab Technician/Reptiloid Alien Kip, Head Transplant Doctor, Rare Book Seller, Soothsayer/Wizard, Lynn, and the Witch from Halloween update.

- Wizard casts powerful magic spells with his Wizard Stick if recruited.
- Wizard casts magic using his Wizard Stick (sometimes it says Wizzle Stick instead, this is a bug)

Lynn C. Thompson, Cold Steel CEO, is now in the game as a rare trader. He can temporarily join your team to give you a LIVE DEMO of his ultra powerful sword he's selling.

- Lynn pitches his products at random intervals.
- Special death saying for Lynn.
- Cold Steel Greatsword AKA Zweihander is now attainable.

Cat Lady!

- Cat Lady summons a cat when you bring her in a mission.
- Cat Lady summons a cat whenever she takes damage.
- Cat Lady has a chance to steal enormous amounts of food for her cats whenever you camp for the night.
- Cat Lady gets her own despair event.

Achievements! A lot of them!
This is the last time I will call them "achievements", from now on they were "cheevos".
Steam integration for cheevos.
Trading camp recruits in! Currently 6 recruit types and then a chance for a rare camp recruit. One will spawn when a campfire is spawned.
The final camp before Canada is now a guaranteed special camp, the Last Stop.

- Last Stop has 4 traders total, guaranteed gas buyer, and a guaranteed camp recruit for now. More will be added as we add new trade camp features.
- Last Stop additionally has an extra recruitable character, special for that camp. That recruit is guaranteed one good stat, though is more expensive than normal. This should make it more possible to turn games around where you have a lot of food, but everyone's dead.

New weapons added: Claw Hammer, Ballpeen Hammer, Rubber Mallet, Screwdriver, Scissors, Scalpel, Tire Iron, Airhorn, Tennis Racket, Oar, Ice Pick, Knitting Needle, Purse, Shiv, Fire Poker, Pool Cue, MEGAMAUL.
Alternate Bar that replaces the pool tables with a Love Tester machine.

- Love Tester can be interacted for an event, until someone loses their temper and smashes it.
Rather than dodge the Ouija board trademark with a Weegee Board, I'd go for a Weegie Board myself. Dare you meddle with dark powers and reach across the void to summon a g-g-g-Glaswegian?